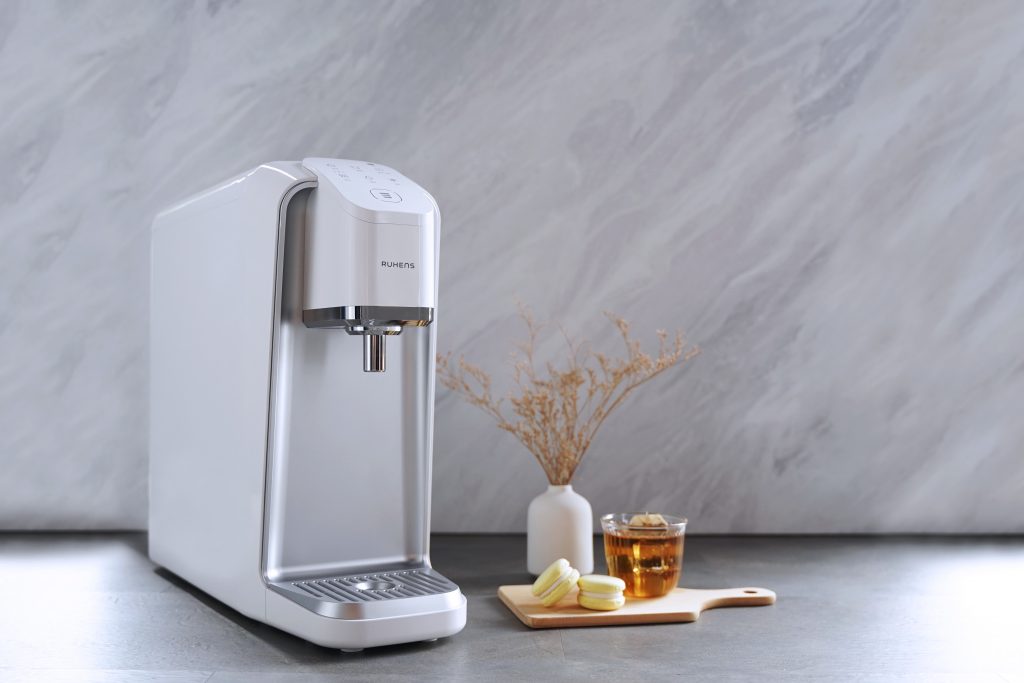 The Ruhens V dispenses hot, cold, room temperature, or warm water at the touch of a button. It dispenses only what is needed, thanks to the quantity control feature which dispenses precise amounts of 120ml, 550ml, 1500ml automatically. Its built-in Eco Mode helps reduce power consumption by 30%.
The machine also offers five different precise temperature controls through a direct cooler and heating technology. These varying temperatures will come in handy for all homeowners in a variety of ways. Here's how the preset temperatures work:
4ºC : For cold-brew iced-tea sachets, or to hydrate on a hot day 

27ºC: For hydration at room temperature throughout the day 

40ºC: Lukewarm temperature to make baby formula 

60 ºC: Ideal temperature for brewing hot tea

87 ºC: Sterilize kitchen utensils, or prepare coffee and cup noodles
Sleek Form Factor
No additional tank is needed to cool and heat the water with the Ruhens V. This not only greatly reduces the risk of bacteria build-up, but it also contributes to its compact design — allowing homeowners to place it anywhere!
Cutting-edge Filtration System
The Ruhens water purifiers exclusively feature a Micro Antioxidant Carbon Filter to reduce sediment particles and a Nanofact Plus Filter to remove water contaminants such as waterborne micro-organisms, bacteria, and viruses. The filters are also detachable for easy cleaning and replacement. A filter change indicator automatically will come on when it's time to replace them.  
Easy Cleaning
The Ruhens V only requires minimal maintenance is required — an automated sterilisation feature cleans the filter using a UV lamp. The faucet can easily be detached and rinsed under a tap, reducing any risk of contamination from dirt or dust particles from the surrounding air.
Pricing & Availability
The Ruhens V comes in five colours; Frosted Silver, Vanilla, Charcoal, Bubblegum Pink, and Marshmallow Pink. It retails at S$2,599 and includes 3 years' worth of filters.
For more information, visit ruhens.com.sg.