Extreme sports photographer Mark Teo has plenty of experience capturing fast-moving subjects, which is why we asked for his thoughts on the Canon EOS R5.
All images and video copyright Mark Teo Photography and used with permission.
We've known photographer Mark Teo for over a decade, from when Mark became the first local photographer for Red Bull. A specialist in capturing the dynamic 'paused moment', Mark has photographed skateboarders, MMA fighters, rappers, extreme sailing catamarans and F1 races.
NXT: You've been a noted sports photographer for many years, do tell us how you started in photography and gravitated to the genre of sports photography.

I used to aggressive inline skate a lot with a group of friends and after being inspired by the skate videos (VHS days!) and magazines we bought, we started shooting our own photos and videos for a website dedicated to the crew. I guess trying to emulate those magazines and skate videos was how my interests in extreme sports/action photography started.
What made you go for extreme sports? I recall that when we first met, you were focused on non-mainstream sports such as skateboarding, which was regarded as a 'fringe' activity when you first started.

It was partly because I was so into the sports themselves in my teenage years. I loved the adrenaline rush and the fact that it was a little "underground" to some degree. The sports themselves had a big D.I.Y/Punk ethos which resonated with me a lot being a person who enjoyed getting my hands dirty and making stuff.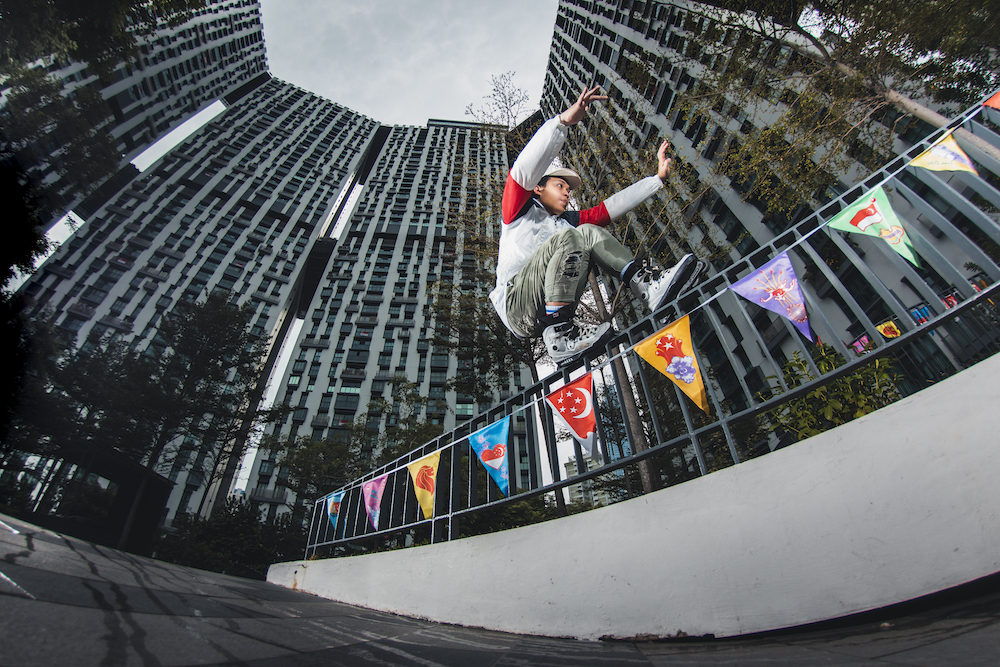 What's your favourite extreme sports photography subject? For example, skateboarding? BMX? Wakeboarding? Pole dancing?

I love them all! Even though I've been mountain biking more than inline skating these days, I dabbled in all of them at some point in my growing years with the exception of maybe Pole Dancing… If I had to pick one now I'd say mountain biking. The bikes are a work of art, the gear is cool and the outdoors lend a perfect backdrop to get creative and shooting.
As a photographer who has mastered the art of sports photography, in your opinion, what is the most difficult skill for a beginner sports photographer to master to capture that moment? Outdoor lighting? Off-camera flash?
The most difficult for a beginner is probably focusing. With sports photography there is a lot of movement and assuming you understand camera settings for shooting action in different lighting conditions, then getting proper focus is the hardest thing to master. With such dynamic situations, it can be hard to decide what focus to use or where to even start focusing.
In mountain biking, it could be the difference between the biker in focus versus only the front tyre of the bike, or worse, the tree line behind the biker. In a boxing/MMA sense it could be that only the fists of the fighter are in focus and the expressions of the fighters are out of focus. Of course, once you master it you can get creative with it.
Tell us how you composed the MTB photo that's the first image of this article.
For the filming of an upcoming video on the EOS R5 for Canon, I had some mountain biking friends come along for the shoot. One of the images I really like is the one you see here, where my friend Ian is jumping the bike straight towards the camera. Objects moving towards the camera at speed are much harder to shoot compared with objects moving laterally so in this case I was very happy that I could rely on the EOS R5's autofocus to pick him right out from the foliage and let me focus on composition. Nothing complicated with the setup, just me with an RF 85mm f/2 Macro IS STM prime lens crouched lower to the ground to really get the sense of height in the jump.
You've been using the EOS R5 since it came out, what are your thoughts on the camera?

I am completely sold by the EOS R5. It's the perfect blend of my previous workhorse cameras which was the EOS 5DS R for commercial work and the EOS 1D X for sports work. These days there is a lot of demand for video work as well and the EOS R5 has some great features to give me the best of both worlds for a real photo/video hybrid setup.
Now, instead of owning and using different camera bodies for different jobs, I use the EOS R5 to cover the majority of the work I do from commercial size prints to editorial shoots and action sports. I've also learnt to embrace the vari-angle LCD monitor which helps frame my shots without having to hide my face behind a viewfinder or crank my neck into a weird position for creative angles.
Have you used Canon's RF system before the EOS R5?
I was on Canon's full-frame mirrorless bandwagon from the launch of the EOS R. Initially the smaller form factor caught my eye especially because I travel with cameras a lot, whether it's for work or a holiday. But after shooting with it for a while, I find that the quality of the RF lens is really the highlight of working with Canon's RF system.
Does the inclusion of a CFexpress card slot help you in recording high burst images?
It's not just about the 20 frames per second RAW burst shooting feature, the inclusion of the CFexpress card to the EOS R5 unlocks the full potential of the camera's video capabilities by allowing you to capture not just 8K@30fps videos, but also 4K@120fps, which enabled me to capture some amazing slow-motion sports sequences!
Shooting 4K@120fps with autofocus is my favourite feature of the EOS R5! Even though I'm primarily a photographer, this function opens up so many possibilities for shooting action with the camera dealing with focus while I concentrate on direction and composition. The EOS R5 is really the perfect mix for content creation in one simple setup. I'd definitely recommend it as the "Do it all" camera for the enthusiast sports photographer and I'd add that once you get it, it opens up a whole lot of other options for combining both photography and video work.

Canon EOS R5
The Canon EOS R5 is now available at all Canon authorised dealers at the recommended retail price of S$6,199 (body only), for further information, visit sg.canon.