The primary weapon of choice for the mobile professional is the laptop. You can work from anywhere, anytime with the right laptop and not worry about missing a beat. Seasoned road warriors want their laptops to be lightweight, durable, and powerful. Battery life and connectivity are also key. However, not all laptops are created equal. For a weapon that can fight your battles without weighing you down, consider the Lenovo ThinkPad X390 ($2,049) as a worthy contender.
Choosing the right laptop is only the first step. You also need to look at a laptop system that has powerful accessories to help you cover all your bases. Here are two power tools that can help you go that extra mile.
See More, Do More, with a Second Screen
It doesn't take much to crowd a laptop's screen — an open email thread here, a working document there, and the next thing you know you're clicking through windows with Alt + Tab. It's even more tedious when you have apps that demand a full-screen experience, such as graphics editors or sprawling spreadsheets.
The solution? A second monitor, which until recently was the domain of deskbound colleagues. Not anymore. Today, we have options like Lenovo's ThinkVision M14 ($399), a 570g folding monitor you can slip right in your bag. But there's more to this road warring companion than a sleek body and light footprint.
For one, it's got a great display to match. The monitor is equipped with a non-glossy IPS screen for better colour and viewability, making it a dream for off-site meetings and sales pitches. We've all seen (or sat through) an awkward meeting where everyone crowds around a single laptop or, worse, gets distracted by their own devices. Who wants that? With a second monitor, you can have everyone comfortably seated and focused on your presentation. You might even score a few points for professional impressions, too.
But let's say you're not the client-facing sort and are more of a free-roaming spirit who haunts cafes and co-working spaces; would you still find the ThinkVision M14 useful? Without a doubt. A second monitor is a great productivity boost no matter how you look at it. If you're working on something complex, throw all your reference windows to the second monitor (Windows + Left/Right Arrow key) so your main monitor stays clean and focused. Seamlessly work across multiple spreadsheets. Monitor live data. Stay on top of customer enquiries. Honestly, it's hard going back to a single screen once you've seen the possibilities.
And what's neat about Lenovo's model is that it goes wherever your laptop does. The screen is bright enough for outdoor use (just not under direct sunlight), and the stand has an adjustable tilt and height so you can nail the set-up every time. It also has an in-built low-blue-light filter to reduce eye strain, since you'll probably end up using the monitor a lot.
All you'll need is a single USB-C cable to hook up the ThinkVision M14. The monitor has a port on either side for left or right-hand use, and it'll use this same cable to draw both power and transfer data. Just be sure that your laptop has a USB-C port with DisplayPort (DP) support to make use of it.
Extra Power on the Go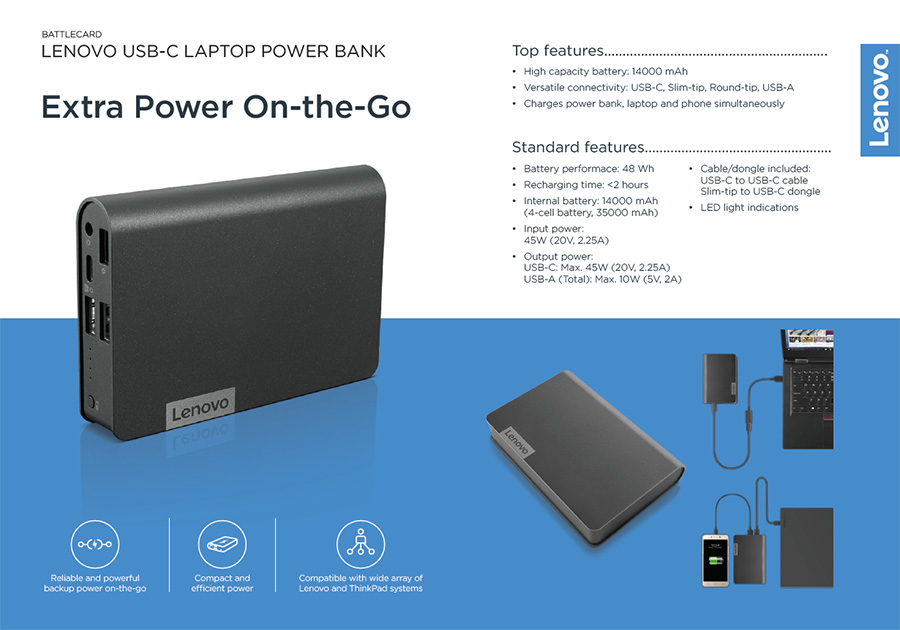 Regardless of whether you have a second monitor or not, there's one inconvenient truth among all devices: power. And as anyone who's tried to hunt for a charging point will tell you, there are few guarantees out on the road.
Short of subscribing to a co-working space or repeatedly visiting that one café, some USB-C-powered laptops today can work with portable power banks. However, not all cables and power banks are created equal. It's a confusing mess of USB specifications and power ratings trying to find what you need, which is why Lenovo decided to cut through the noise with an official USB-C Laptop Power Bank ($269).
This off-the-shelf fix is not much larger than your average high capacity power bank, although it does have a USB-C 3.0 port with "Power Delivery" (the keyword to look for) to support high power devices. If you own a Lenovo laptop, regardless of your model using the older Slim-tip power cables or the newer USB-C, you'll get peace of mind knowing that the power bank works and charges safely.
The hefty capacity can get you up to 6 hours of extra battery life, so long as you remember to lower your laptop's system settings such as the screen brightness. Critically, you'll also find two standard USB-A ports to charge your smartphone and other devices, making this a practical replacement for your existing one. You could even charge both at the same time for a quick power top-up before an important meeting or a business flight.
Be the King of the Road
But you know what they say: two is better than one. If you're looking for a serious on-the-road upgrade, then you'll want to incorporate both the ThinkVision M14 and the USB-C Laptop Power Bank to your set-up. Your bag won't weigh much more for it and in exchange, you'll receive a huge productivity boost in your day-to-day work. Try this for size: If you're meeting a client for that final sales pitch, connect the USB-C Laptop Power Bank to the ThinkVision M14 monitor, and connect the latter to your laptop.
Yes, the monitor has power pass-through, which means you're not only giving a much more impressive presentation, but you'll have at least two hours of guaranteed power to see it through. Now that's a road warrior for 2020.