LG is holding its #LittleMessMaker Competition to look for Singapore's messiest kid — and it wants to render love and support to parents to help with household chores, with a chance to win a TurboWash 3D Top Load Washing Machine (TH2113SSAK).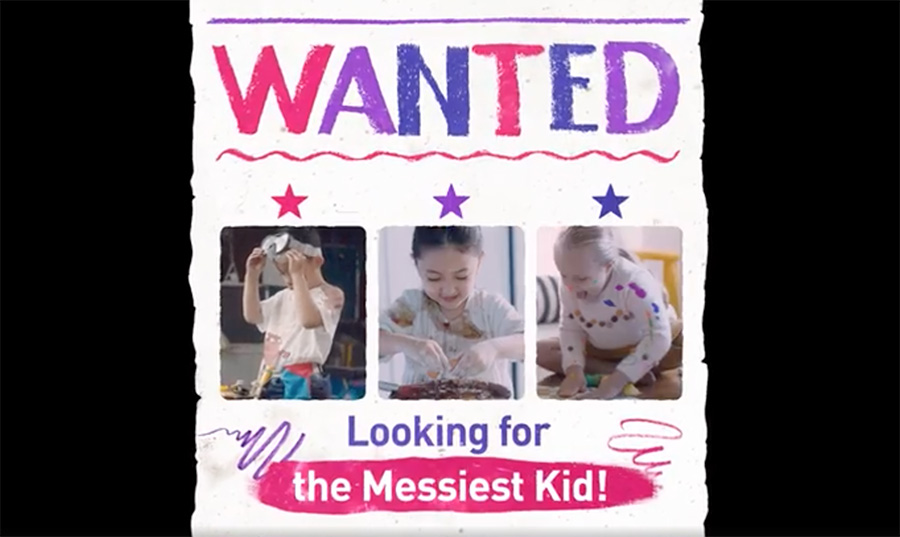 Save Both Energy and Effort with the TurboWash 3D
Due to its unique tub design with stabilization technology, the TH2113SSAK features a 13kg capacity in a compact body. It saves up to 18.4 percent more space than a similar 21-inch (540mm) washer and can wash larger loads all at once. Parents can wash bulky items such as soiled duvets and larger amounts of laundry easily at home.
It features the new TurboWash 3D technology which harnesses the combined strengths of TurboShot (WaveForce and JetSpray) and TurboDrum. The former penetrates deep into fabrics for enhanced rinsing performance and latter spins the tub and pulsator in the same or opposite directions, ensuring a thorough wash. The TurboWash 3D also improves washing efficiency, reducing wash cycles by up to 21 minutes, taking all the tedium out of doing the laundry and freeing up more time for busy parents. Energy consumption is also reduced by up to 27 percent and water consumption by 14 percent compared to conventional LG washing machine.
For delicate laundry, such as baby clothes, parents can add Steam to the Stain Care cycle to softly soak and wash items in warm water (40 degrees Celsius). Moreover, the Allergy Care cycle with 60 degrees Celsius Steam boosts the hygienic performance of this robust washer, reducing allergens by 99.9 percent, helping parents safeguard the health of their families.
From now to 1 December, 2019, simply snap a photo of your cheeky kid having fun while making a mess, share it on social media, and stand a chance to win the LG top load washing machine. Winners will be announced on 13 December, 2019 through LG Singapore Facebook and Instagram pages. Terms and Conditions apply.
Contest Mechanics
Facebook
Step 1:  Like the LG Singapore Facebook page.
Step 2: Like the Contest post under "Notes" of the LG Singapore Facebook Page.
Step 3: Share the Contest post.
Step 4: Under the Contest post, leave a comment with a photo about how messy but adorable your child is and add the hashtags #LittleMessMakerSG #lgsingapore.
Instagram
Step 1: Follow the @lgsingapore Instagram channel.
Step 2: Upload to your Instagram account, a photo and a caption about how messy but adorable your child is with the hashtags #LittleMessMakerSG #lgsingapore.
Step 3: Copy your Instagram post's URL by clicking on the icon in the top right corner and choosing "Copy link".
Step 4: Reply to the Contest post on the @lgsingapore Instagram channel with a comment and the copied URL of your Instagram post.
Facebook post: https://www.facebook.com/watch/?v=520342981852805
Instagram post: https://www.instagram.com/p/B4tJqYVoTGu/
For the full Terms & Conditions details, please visit: https://www.facebook.com/notes/lg-singapore/little-mess-maker-with-turbowash-3d-contest-terms-and-conditions/10157529413581093