NXT October 2019 Issue
Planning to upgrade your gear for school? We have a selection of back-to-school gadget recommendations in the October 2019 issue of NXT, and for the first time we've got a 'coverboy' to partner our NXT covergirl! Both Clarissa and Jeddy are our newly crowned NXT Ambassadors from the NUS Business School and we're featuring the pair with some great kit.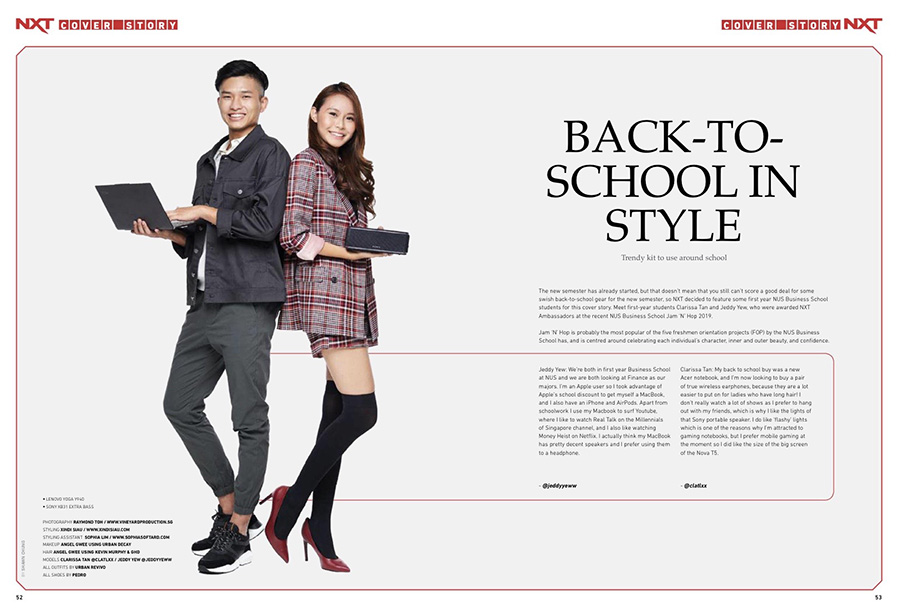 In our October issue we also have quite a few smartphone articles! First of we bring you the news on the Apple iPhone 11 Pro & Max, followed by Huawei's Mate 30 & Mate 30 Pro uber camera phones! 
If you're more interested in getting a mid-tier smartphone there's a group test with the Google Pixel 3a, Huawei Nove 5T, Oppo Reno and the Samsung Galaxy A80. 
Speaking of Samsung Galaxy phones, we've also covered the premium Samsung Galaxy Fold in our Luxury section, and the Galaxy Note10+ gets reviewed in our Test section.
Also in the October issue of NXT, our NXT Angel Natalie works out with the Huawei Watch GT, we check out the first Intel Project Athena notebook, the ultralight and powerful HP Elite Dragonfly, drool over the new Lotus Evija electric hypercar, test out Lenovo's Legion Y7000 SE gaming notebook and ask the NXT Guru for tips on how to start vlogging.