Canon announced the first instant camera printer, available in two new models, for its Mini Photo Printer lineup which includes a fresh logo and an exciting rebranding for the range. The rebranded iNSPiC line stems from the words 'inspiring pictures', precisely encapsulating the intentions of the new additions. The iNSPiC [C] and iNSPiC [S] series arrive to the party as pocket-sized instant camera printers that combine image capturing capabilities with the instant gratification of compact mini printers.
iNSPiC [S] ZV-123A
Available in three colours – Pearl White, Matte Black and Rose Gold -, this classy instant camera printer is perfect for slipping into clutch bags or pockets for a day of fun out in the sun, or a relaxing evening with friends. The ultra-slim profile packs in a powerful 8-megapixel fixed focus camera, so you can shoot and print instantly from just one device without the need to perform a juggling act with a separate camera and printer.
The added crowd-pleaser comes in the form of a built-in LED ring light that circles the camera lens and activates a powerful fill light for beautiful portrait shots. This makes it easier to capture moments at night, with ever-ready perfect lighting on the go. The ring light paired with the selfie mirror dome, makes the iNSPiC [S] the ideal partner for stunning selfies.
Users can also connect the device to smartphones using the Canon Mini Print mobile app to print photos stored on smartphones or photo albums on social networking accounts. A quick reprint button makes it easy to get multiple reprints off the instant camera printer, while the app also receives a useful update to include a virtual shutter button for remote shooting, and with even more stickers for decorating photos before print.
The iNSPiC [S] also comes with a Micro SD slot that supports card capacities of up to 256GB, so holidaymakers can choose to save all their treasured moments onto a laptop back at home.
iNSPiC [C] CV-123A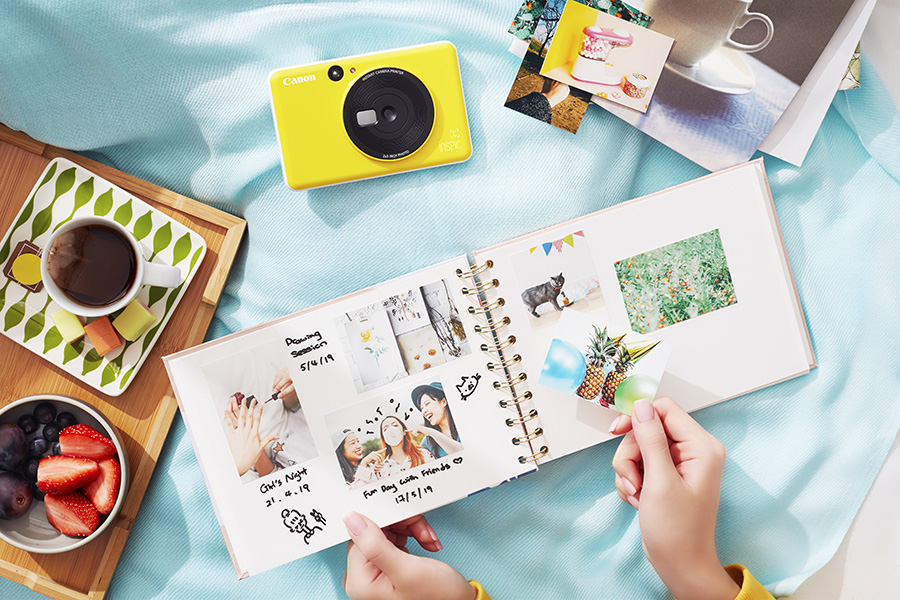 The iNSPiC [C] series comes in a palette of pop colour options such as Bubble Gum Pink, Bumble Bee Yellow and Seaside Blue, making a bold fashion statement at gatherings with friends and family, or simply just to stand out in the crowd! A built-in 5-megapixel camera and a small selfie mirror next to the camera lens makes selfie-shooting easy even in group settings, while a one-touch reprint button ensures no one leaves the party without receiving a printout of that precious moment.
Printing Technology and Media
The Canon instant camera printer harnesses ZINK Zero Ink Technology from ZINK, a revolutionary dry-printing technology that enables printing in colour without the use of ink cartridges. It delivers 2×3-inch glossy photo prints that are smudge-proof and scratch-resistant, with a peel-and-stick reverse side that adheres effortlessly to the back of smartphones, laptops, tabletops, wall mirrors, or just about any smooth surface.
Canon Mini Print Mobile App
The Canon Mini Print app turns ordinary users into expert creators thanks to a vast library of photo-editing functions, creative filters, frames, stamps and text styles. These simple tools can be applied to photos snapped using the in-app camera integration, or on images downloaded from photo albums stored on cloud services such Facebook, Instagram, Google Drive and Dropbox. Special features include augmented face distortion and the option to draw on photos before printing.
For occasions where 2×3-inch images will simply not do, the app also offers collage printing of up to four images, or a tile print function that creates an enlarged print made up of four or nine prints.
Remote shooting is also made possible through the app. Simply connect to the iNSPiC [S] and you'll even be able to set your desired timer option or opt for instant print through a click on your app.
Special Collaboration with Craftholic
With every purchase of any iNSPiC [C] and [S], you will be entitled to a special bundle of Craftholic premiums, which includes a limited edition pouch, lanyard and keychain plushie worth $59. Redemptions are available from 8 July at the Canon Customer Care Centre2.