Vivo, not the mall at Harbourfront but the smartphone brand, recently announced that Singapore will be the first in Southeast Asia to retail the Vivo X21.
This flagship smartphone brings users a brand new and futuristic unlocking experience, with industry-leading In-Display Fingerprint Scanning Technology. Combined with its FullView Display, AI photography, and upgraded face recognition technology, the Vivo X21 is the ideal mobile partner for the tech-savvy customer.
Vivo: Pushing Technological Boundaries
Founded in 2009, Vivo has presence in 20 markets globally, including China, Malaysia, Russia, Singapore, and Thailand. It has close to two hundred million users, and is one of the preferred brands of young people and professionals around the world.
To serve the needs of these young people and professionals, Vivo does continuous research into user needs, and pursues innovation to fill in the gaps of consumer needs and wants.
The brand invested in long-term research and development to overcome the problems posed by the mass production of In-Display Fingerprint Scanning Technology. And now, all that research has borne fruit! Vivo is finally bringing this secure and intuitive unlocking solution to more consumers with the Vivo X21.
Along with the In-Display Fingerprint Scanning Technology, Vivo has also made major technology breakthroughs with its FullView Display and AI photography in the Vivo X21.
Two Unlocking Technologies, Double The Convenience
The Vivo X21 replaces the rear fingerprint sensor with the latest In-Display Fingerprint Scanning Technology. This allows the sleek and unified design of the smartphone to be preserved without the need for a rear fingerprint sensor. With a mere flick of the wrist and a press on the screen to unlock, this convenient and seamless process is intuitive for any user.
FullView For More Screen, Less Body
The Vivo X21 has a 6.28-inch 19:9 FHD+ FullView Display. With a super slim notch and 1.66mm side bezels, it achieves a 90.3% screen-to-body ratio that provides a wider viewing experience, compared to other similar-sized phones.
Vivo has even enhanced its software to support the notch and developed a notification bar that maintains an immersive experience. It uses P3 display colour management technology to maximise the beauty of the display. It also supports a P3 wide colour gamut to ensure more accurate, natural, and saturated colours.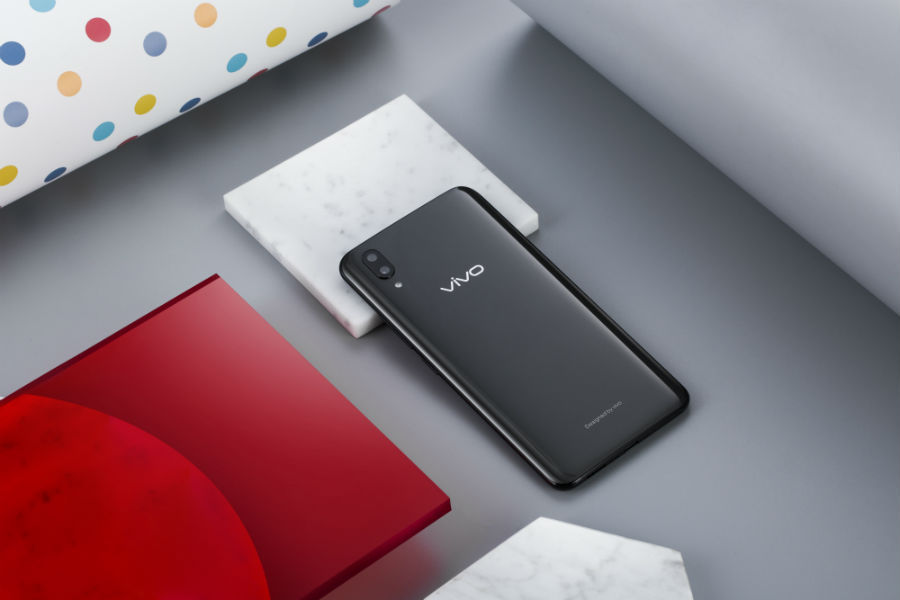 Design wise, the X21 has also ditched the traditional metal body for a new 3D glass back cover. Every arc and curve on the back cover is ergonomically optimized to ensure comfort in your hand. It's even only 3.1mm thick in the middle!
More than just smooth to the touch, the X21 also uses a new colour-blending technique, which creates a unique luster for an elegant look.
AI Photography: Let The Camera Do The Work
The Vivo X21 continues Vivo's heritage of photography leadership. It features a 12MP front cameras with Dual Pixel Sensors. The secondary rear camera is 5MP. Thanks to the larger photographic area of each pixel, the X21's camera significantly boosts picture clarity.
On top of this, the X21 features fast focusing technology that rivals DSLRs. This enables it to focus quickly, and capture depth of field data in every pixel.
The Vivo X21's AI Scene Recognition can identify night, sports, vibration or back light scenarios. Not only that, but it can also detect and identify 18 tags and 140 scenarios like portraits, food and plants as it shoots. It then actively adjusts photography settings and effects to make it easy for the user to capture a great photo.
Vivo's AI Face Beauty and AI HDR features can identify the subject's sex, skin tone and surrounding lighting environment. This lets it create the ideal facial enhancement settings, even in a backlit environment. AI Face Beauty also learns your specific preferences for beauty. It can generate custom beautification effects tailored to each user. Think of the X21 as your personal makeover team packed into one intelligent device.
System Level Optimization
Hardware forms the basis of any user experience. The X21 is powered by the Qualcomm Snapdragon 660AIE chip which can effectively utilize CPU resources for complex AI and neural computing. Its 6GB RAM + 128GB ROM increases the speed of launching, loading and switching even large and complex mobile games. With the large storage space, you can download all the applications, movies and photos you want!
While gaming, the system will automatically adjust the CPU to optimize performance according to the game's resources. This results in a smoother gaming experience. The Game Mode on the X21 even prevents accidental touch operations, ensuring gamers only make the moves they intended.
The X21 continues Vivo's Hi-Fi legacy and houses the AK4376A audio chipset. It also features Deepfield technology. This technology was developed by Vivo to provide panoramic surround, mega bass, clear voice effects and various environmental audio effects, allowing users to tailor their audio experience.
Price and Availability
The Vivo X21 is available in black in Singapore from Saturday, 5 May. It retails at a recommended price of $799.