Traditional home automation often involves expensive custom installation. Costing upwards of S$15,000, you can install a fully integrated home automation to control and manage household services such as cooling, lighting, blinds, security, and data throughout an apartment using a tablet or smartphone.
For example, www.claritygroup.com.sg would have been one of the solution providers you'd turn to. It was arguably the only logical solution as it was uncommon and difficult to hook up regular gadgets to a wireless network and automate them.
With the exploding growth of the Internet of Things, more and more gadgets and devices will ship with the inbuilt ability to be wirelessly networked – enabling the homeowner to control entertainment devices and home appliances via a personal mobile device, such as a smartphone, tablet or a laptop. It's much easier and more affordable for the average consumer to have a customised setup at home for enjoying music, watching movies and controlling the lights and home appliances around the house. Here are some things you can try out at home without much effort.
Smart Home Automation
So what can you do to smarten up your home? Well for starters, many of the common appliances that we use in the home today can be modified or replaced with smart versions that allow them to be networked so you can remotely control them from a smartphone or tablet either via the Wi-Fi network or from anywhere in the world if you have an internet connection.
For example, these include the lights, the switches that your traditional 'dumb' appliances are plugged into, and digital locks. You can also install IP cameras for surveillance. They can also be used as monitors for babies, and you can check on what your pet does when you're absent from home.
Simple Automation
To test the waters, how about some smart lighting for the home? You can begin with the Philips Hue range. They have complete starter kits (from S$199, www.meethue.com) that include everything you need to set up an intelligent home lighting system.
They fit into any existing light fitting, and all you need to do is to set up the bridge that's included in the kit, download the Philips Hue app and connect – and you're good to go.
You can now control the brightness and colour of every connected light bulb, and set them up precisely to your liking and your mood; be it the room or the entire apartment. It comes with pre-programmed 'scenes' but you can tweak them to your liking, and add more of your own. The lights can be programmed to come on based on the day of week and time of day, or a specific time too.
You can even set the bulbs such that they turn on automatically when you enter the room and switch off when you exit, using your smartphone as a trigger.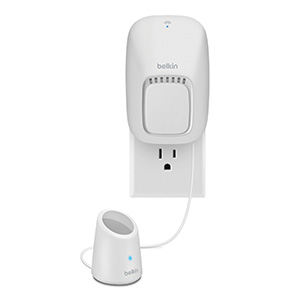 'Smarten' Dumb Appliances
Now that you have a smart lighting setup in place, how does one smarten up some of the "dumb" traditional appliances around the home?
The easiest way to control your regular home electronics using your smartphone is Belkin's WeMo Switch (S$79, www.belkin.com/sg).
Just plug the WeMo Switch into the wall outlet and then plug the home appliance into the WeMo Switch. Now you can control power to that device remotely through an app on your smartphone, even if you are away from home, in the office or overseas.
Forgot the iron when you left the house? Just check the app, and turn it off. Like the lights, you can also program the switches to turn on or off based on a regular schedule. And instead of using an app, you can also get sensors – Belkin also has a motion sensor that works as a trigger. You can set up the motion sensor such that when it detects someone walking it past it turns on, say, a fan automatically.
More and more easy-to-use solutions are appearing each day – Asus has also released its own family of smarthome devices that include locks, sensors and power meters. Even Singtel is offering smart home devices with professional installation.
Feeling Adventurous?
If you like where this is going then it's time to take it up a notch:

Virtual Assistant Controllers
Instead of using an app to switch devices on and off, just ask the virtual assistant to do it for you. Amazon Echo Dot (US$50, ww.amazon.com) and Google Home (US$129, madeby.google.com) are controllers that feature AI assistants that basically enables you to communicate with your devices. They are relatively new, but are expanding in compatibility with mainstream devices.
Smart Air Con
Likewise, there are many solutions on the market, but the upcoming Ambi Climate (US$129, www.ambicliamte.com) is an air-con controller that will be interesting: it measures multiple factors that affect air-conditioning such as weather, sunlight and humidity, and is able to learn what makes you comfortable as well. It will be compatible with Amazon Alexa and IFTTT.
Smart Locks
There are many smart locks on the market but how about something with a local flavour? Igloohome Deadbolt 02 (S$388, www.igloohome. co) stays off the Wi-Fi grid so it can't be hacked over the Internet and uses an encrypted security token much like what banks use, to unlock the door.
Wireless Network Speakers
One upshot of a smart connected home is wireless speakers – or the distribution of wireless content.
Wireless network speakers enable you to fill your home with your favourite music, without all the messy wiring, and they are usually capable of better audio quality than Bluetooth speakers. You can set up a multi-room audio system such that you can play music stored on any device anywhere in your home – on any speaker located anywhere in your home.
More than just Streaming
Imagine you're coming home from work and were listening to music from your smartphone. Wouldn't it be nice if your home audio setup so smart that when you step in through the front door, the music you were listening to on your earphones begins to play on the wireless speakers in the living room? And when you enter your bedroom to freshen up, the wireless speakers in those rooms fire up and continue playing the same music?
If this appeals to you, then check out LG's Music Flow wireless speakers, a smart Hi-Fi audio system that instantly syncs with your mobile devices. So from the moment you arrive home, you can hear your favourite artists on your wireless speakers. They allow you to play music from virtually any source, including audiophile-quality high-resolution files.
The Multi-Room Advantage
Customise your listening experience – you can choose to play the same music throughout your home, or allow different speakers to play different music in different rooms.
Unlike most speaker systems, there's no need to plan. Because the system can be configured in many different ways, you can start small, then add speakers slowly over time at your own pace (not too slow until they discontinue your system though) – making it easy to create a network of multi-room speakers over time.
Convenient Home Theater
Soundbars are a popular choice these days because of their small form factor, which is suitable for smaller rooms today. And many like LG's Music Flow (along with others like Samsung, Sonos, Bose) have multi-room support as well. In the case of the LG, you can even sync additional pairs of Music Flow speakers for surround sound capabilities.
The advantage of setting up wireless speakers – apart from messy wiring or the cost of concealing the wiring with a false partition – is that it makes it so much more flexible and convenient in terms of speakers setup. You can now place speakers at their optimum position without having to worry about wiring. You'd still need an electrical outlet for power, but that's it. Also, you can configure your wireless speaker to play from different sources, such as the smartphones of different members of the household.
Sonos was the pioneer in popularising multiroom wireless audio systems. The company's PLAY speakers (from S$379, www.tcacoustic. com.sg) comprises three speakers of different sizes, a TV soundbar and a dedicated subwoofer if you desire more bass.
Bose also offers three different sizes in its SoundTouch series (from S$399, www.atlas-sv.com) of wireless multiroom speakers. I love their excellent sound quality, easy setup and single-touch access to the most popular music streaming services.
The wireless speaker that I'm most impressed with is the Mass Fidelity Core (S$899, www.claritygroup.com.sg) as it delivers incredible sound quality despite its compact size. You can connect multiple Core speakers to the home Wi-Fi network for a multiroom setup. The speakers can also connect directly to each other so you don't even need to have an existing Wi-Fi network.
Greater than the Sum of its Parts
Although a single speaker unit can provide good stereo music, you can enjoy more depth if you pair two compatible wireless speakers in stereo, which will create a sense of space.
While a detailed tutorial of how to place speakers in a room is beyond the scope of this article, here are a few simple tips that will enhance your listening experience.
Position your listening spot the same distance from your speakers as they are from each other
Your seat and the two speakers should form an equilateral triangle.
Angle your speakers inwards to channel their sound toward your seat.
Leave some space between speakers or seat and the walls. This way, you receive more sound coming directly from the speakers, and reduce the sound reflecting off the walls and other surfaces. Your music will come alive as you hear more musical details.

Home Personal Cloud to Stream your Music and Movies
Having connected your wireless speakers to a multi-room network, you may want to set up a personal cloud at home to store and share your music and movies; and photos, perhaps.
Physical discs aren't dead yet, but we'd acknowledge that digital is much more portable and you can even play them directly from your mobile devices or over the Internet.
Everyone in the family will have their own music and video collections, stored on their smartphones, tablets, or notebooks.
By setting up a personal cloud at home, you can share your media content with your family members. That way, everyone can have access, even if the owner of the collection is not at home.
It also acts as backup so in case your phone or laptop is lost or damaged, you don't lose more than just the device. You also can free up more space on your portable devices.
How to Get Started
Two quick and easy personal clouds that you can easily set up yourself are network attached hard drives from Seagate (Personal Cloud from S$249, www.seagate.com/sg) and WD (My Cloud Personal from S$289, www.wdc. com). I have tried out both these solutions and found them easy to setup and use and they worked beautifully to share and stream media seamlessly throughout my home.
Essentially, both of these solutions enable you to copy your files to the drive, which then functions as a personal cloud to serve content to devices (at home or over the Internet) that have permission to access the music or movie collection.
So instead of having multiple copies of movies, music and photos scattered across multiple devices owned by various household members, the personal cloud enables you to wirelessly organise and stream your content. The bonus is that you can store, access and share your regular work documents on the personal cloud as well.

Additionally, it can also serve as a backup for media collections and files that were originally stored on the owners' mobile devices. In the event you lose your smartphone, your carefully curated collection of songs are still available and backed up on the personal cloud. In fact, you should make it a habit of making at least one backup copy of data that is important to you.
Even if you use commercial cloud storage like Google Drive on the World Wide Web, it's always good to have a local copy on your home network, in case your Internet connection is down, or if you don't want to clog up your broadband connection streaming music or movies. And if you enable access to the personal cloud to the Internet, you can access your entire media collection and work documents even when you are overseas as well.
If you feel like you need more features on top of a basic hard drive – or if you have a family of media junkies – WD also offers the My Cloud Series of network attached storage (from S$699 w/o drive, www.wdc.com) that can handle heavier usage better and that also works with their downloadable Plex Media Server app.
The Network
Since many of us stream our music or movies directly from the World Wide Web, our Internet broadband connectivity can be a bottleneck to our home wireless entertainment system.
The demand is often exacerbated if you are a gamer, and if you have many members accessing the Internet through their smartphones, tablets, notebooks, desktop computers or smart TVs. So a reliable Internet Service Provider that provides a fast broadband speed is essential for the modern connected household.
The good thing about Singapore is that any of the providers will give you satisfactory speeds, but I've had a positive experience with ViewQwest's fibre broadband (from S$49.90/mth, www.viewqwest.com), which offers download bandwidths of up to 2Gbps and uploads of up to 1Gbps (they also have an 'extreme' 10Gbps plan at S$218/mth). Apart from content providers like Netflix, you can use ViewQwest's Freedom VPN to watch movies and TV shows from online streaming services such as Hulu and PPTV China, which are usually not fully accessible from Singapore.
Maximise your Bandwidth
If you subscribe to a high-speed broadband connection plan, be sure to use a router that is good enough to handle to data throughput. At the very least, go for a multi-band router so that the bandwidth is split into two or three frequency bands.
The thing about your data networks is that when there is more than one device using the same Wi-Fi network at the same time, the amount of bandwidth is divided. So the more devices you have that are sharing the same network, the slower the Wi-Fi is going to become.
So if your router is able to split your broadband connection into two or three bands, you can spread out the devices connecting to the network on different bands to avoid congestion – remember that you're competing with your neighbours for 'space' too. Which brings us to…
The Core: The Wi-Fi Router
Since the backbone of the home wireless network is your Wi-Fi network, it is important that you get a router that is fast enough to stream bandwidth-intensive media content over the network – and has the coverage to reach both the sources and devices that request them.
Regarding speed, you can get an idea of how fast a router is capable of supporting, usually just by looking at its model name or description. For example, the ASUS RT-AC3200 is capable of a total link speed of 3200 Mbps (Megabits per second). Note that this is a theoretical rating and refers to the total data throughput across all its three bands. What we'll see is usually 20% to half of the rating.
If you're looking for a fast router that allows you to fine tune your network settings, the abovementioned ASUS RT-AC3200 (S$339, www.asus.com. sg) is a good candidate to consider. It may not be the fastest, but it is fast enough to deliver blistering speeds to multiple devices.
If you prefer one that is easy to set up, yet fast enough to support multiple devices on your Wi-Fi network, check out Linksys EA9200 (S$399, www.linksys.com/sg). Both are tri-band routers which provide an additional band over dual-band routers so that each band is not congested with too many devices, which will slow down the network speed for that band.
For large homes with Wi-Fi dead zones, you can consider the Linksys Velop Whole Home Wi-Fi mesh system (from S$329 for 1, www.linksys.com/ sg), which uses multiple router units to build up a "mesh" of Wi-Fi connectivity within the home. They are much more effective than the 'traditional' method of adding wireless extenders, giving you decent speeds and requires far less effort to set up.