Almost everyone games a little – even the most hardworking of them all. But those who are hardworking when it comes to gaming, are wired a little different. For one, they are religiously particular about the whole experience, and in particular, their gear.
Video games are amongst the toughest things you can subject your computer to. They often push the system to its limits when trying to achieve the best visual quality and at buttery smooth frame rates.
Of course, not everyone can spend oodles of cash on a computer, and so there are a few archetypes that people typically go for so they can game like a king. We'll give you a primer so you can search out the best rig for yourself.
Note: The prices of components are dynamic and is correct at time of writing. Recommended specs will also change as well depending on availability of components. For simplicity, we will only focus on the core components necessary for each build.
Setups for Around $1,500
At the very least, you have to look to spend around S$1,500-$1,600 (excluding monitor, mind you) to have somewhat decent rig that you can use for a variety of games. MMORPGs and similar games will be best as they often do not have very extreme requirements. These prices exclude the monitor, by the way. So you have to take that into consideration.
Minimum Configuration
At the very least, a gaming rig needs discrete graphics and an NVIDIA GTX 1050 is the bare minimum. SSDs should be used as primary storage, be it in the form of a hybrid drive or a dedicated SSD for system files. A setup like this is close to the S$1,300 mark, depending on choice of motherboard and case.

CPU Intel Core i5-7500 or AMD Ryzen 1500
RAM 8GB
Graphics NVIDIA GTX 1050 2GB / AMD RX 460
Storage 120GB SSD (M.2) + 500GB HDD
Recommended Setup
If possible, cough out a little more cash to get a little bit more bang for buck value as well as longevity. Remember that it's not always the cheapest that gets you the best value. But don't take our word for it – do some cursory research with Google for a compilation of comparisons. It also depends on how long you expect your rig to last as well. This takes you closer to the S$1,500-$1,600 mark.
CPU Intel Core i5-7600 or AMD Ryzen 1600
RAM 8GB (16GB if you multitask a lot)
Graphics NVIDIA GTX 1060 (or 1050Ti) / AMD RX 580
Primary Storage 120GB SSD (M.2) + 500GB HDD (or 1TB)
Pre-configured Desktops
While not as popular as laptops these days, pre-configured desktops are still a part of the PC landscape. All major names in the business offer several options for gaming. This is one viable option if you aren't keen on putting together something yourself.
Asus ROG G11CD (G11CD-K-SG011T)
The G11CD model uses the i7-7700 processor and GTX 1050 combination although it offers just a conventional 2TB HDD. The case is a little fancier and you pay a little more but one of the upshots of going with a pre-configured kit is that you spend less time figuring out what went wrong (when it does) and you have a three-year on-site warranty to fall back on.
From S$1,548 
www.asus.com/sg
Laptops
NVIDIA's Pascal tech bridges the gap significantly between desktop and laptop, to the point that the performances are mostly similar. With the advent of Max Q (see p38) we can only see further progress in the field of gaming laptops without the backbreaking weight. Mainstream laptops can be viable desktop replacements, and this is pretty exciting for the casual gamer who doesn't need all the bells and whistles. Look for laptops with a Nvidia GTX 1050 or 1060 (if you want more power) and paired with at least an Intel i5 processor.
Lenovo Legion Y520
The Y520 is proof that you can have a gaming notebook that can run most of today's games at respectable framerates and detail. It's not flashy by any means – which is a good thing for some people – and it comes in variety of options. The bare bones model sets you back S$1,199 for an i5-7300 processor and GTX 1050 graphics with a regular HDD, but S$1,599 gets you an i7-7700 with GTX 1050Ti and a hybrid drive for a combination of speed and storage space. And it's portable too.
From S$1,199
www.lenovo.com/sg
Middle of the Road (~$3,000)
The three thousand mark is a pretty good place to be. That money gets you quite a good piece of kit – though not the best – but it means you're really looking for a visually stunning experience. Much like how you build a character class, you need to make the most of your stat points, which are plentiful, but as you will soon find out, somewhat limited as well.
CPU- and GPU-First Approach
If you choose to run your games in conventional Full-HD mode then there's plenty of room to play with your three grand and there's no need for a crazy SLI setup; 1440p resolution is also an option. If you go full retard with the CPU and graphics then you'll have less for other amenities like storage configurations and speedier RAM. You'd probably need to skimp a little on the motherboard as well an forgo some tweaking options and port options. It's far from optimal, but there's plenty of raw power out of the box. You'd most likely wind up with something similar to the Acer Predator on the next page, but on your own terms.
CPU: Intel Core i7-7700
Graphics: NVIDIA GTX 1070 or 1080
RAM: 16GB
Storage: M.2 SSD (e.g. Samsung 960 EVO) + Western Digital 1TB 7200rpm Black HDD
Middle Ground
We think that playing it conservative here would be better though, in the sense there's more breathing room. If it's pure gaming that you do, an i5 7500 (or Ryzen 1600) will do the job. You can even get away with 8GB of RAM, to be honest, unless you do plenty of multitasking and livestreaming. You will wind up with plenty of headroom, money-wise, and you can spend it on a fancier case, upgrade to a liquid cooling system, and get yourself a nice keyboard and mouse.

CPU: Intel Core i5-7600 or Ryzen 1600
Graphics: NVIDIA GTX 1060 or 1070 or Ryzen 580
RAM: 8GB (16GB if necessary)
Storage: M.2 SSD (e.g. Samsung 960 EVO) + Western Digital 1TB 7200rpm Black HDD
Pre-Configured Desktops
It's actually quite cool that you have pre-configured gaming options from the big names, so those who don't really have the time to troubleshoot their machines can enjoy the on-site warranty benefits. For some, it's well-worth the slight premium.
Acer Predator G3-710
The G3-710 sports an i7-7700 processor and GTX 1080 8GB graphics. With 16GB RAM along with a 256GB SSD and 1TB HDD combo, it has covers most of the main bullet points. Of course, you have to expect that you aren't getting top of the line chipsets and the fastest RAM, but the G3-710 can get you pretty much there with the minimum of fuss – the fun is in playing the game, not grease monkeying with silicon wafers and impossibly small screws in hard-to-reach places.
S$2,898
sg-store.acer.com
The Power Laptop
MSI, Razer, Alienware, HP, Acer and ASUS all have very compelling options in this category, and it's a matter of picking one that tickles your fancy after a few Google searches. But we'd like you to consider putting together something from local startup Aftershock to make the most of your money.
Aftershock W-15S
For three grand, the W-15S has a relatively modest GTX 1070 8GB graphics, though still a considerable upgrade over the the 1050 and 1060. However, it is effectively a desktop, using a desktop-class i5-7500 processor. If you're willing to top up a little more for an SSD, you'll have a very handy desktop replacement in the form of a fairly portable 15-inch laptop.
S$2,900
www.aftershockpc.com
Over the Top
When you have no budget restrictions, it just gets really expensive from here forward. In terms of performance, you can now aim for a 4K experience, and not to mention the endless myriad of peripherals that you can choose from.
All-Out Performance
Since the sky's the limit, then everything is a valid choice. But for the sake of knowing something then let's consider if you're interested in 4K resolution or not. If yes, then an SLI setup is worth considering as most games running at that resolution will benefit from a dual card setup. If you don't, you can still run it in SLI, but single card performance is generally better (less problematic).
The single big difference is that you can pick your choice of premium motherboards with better overclocking options and other perks. This is especially true when using CPUs with overclocking support (denoted by a K for Intel and X for AMD) – you'll need an appropriate motherboard that can manage the overclocking. With a good motherboard you'll get the most out of your components.

CPU: Intel Core i7-7700K or AMD Ryzen 7 1800X (good for multi-thread applications)
Graphics: NVIDIA GTX 1080Ti (SLI for 4K setups)
RAM: 16GB (why not)
Storage: M.2 SSD in RAID 0 (PCI-E) + additional storage of choice
Pre-Configured Desktops
It's a little harder to find an over the top offering that's sitting on shelves but they are around if you look. In many cases (pun not intended) they feature very striking aesthetics, as you would expect from a gaming device.
Asus GT51CH-SG001T
When it comes to crazy you can always almost count on ASUS to have something there. This is ASUS's desktop with a GTX 1080 SLI setup and pretty much has all the bells and whistles: i7-7700K CPU, 32GB of RAM, with 512GB SSD and 2TB HDD storage, and liquid cooling thrown in to boot. It comes with its own management software to fine tune all manner of settings – and oh, the lights as well, of course.
S$4,798
www.asus.com/sg
Power Laptops
Often these laptops are effectively desktop replacements as the power requirements are extremely draining on the battery. But still, some appreciate the compact form compared to a full-fledged desktop.
Razer Blade Pro
Unlike its peers, the Razer Blade Pro is very understated when it comes to looks. Under the hood, though is a beast of a machine with an i7-7820HK CPU and GTX 1080 GPU. It's also THX certified for quality visuals and audio, with a 100-percent RGB, 4K display. There's also dual SSDs in PCI-E for the quickest data transfer and Killer DoubleShot Pro for stutter-free networking. The best of everything, and in a mere 0.88-inch thin chassis.
From S$6,100
www.razerzone.com/sg
Fancy Peripherals
Gaming has some of the most outlandish gear and if you can afford it, it's certainly a guilty pleasure.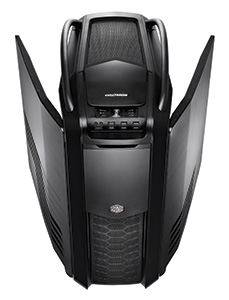 Cooler Master Cosmos II Ultra Tower
This massive case looks suitable aggressive yet understated (if you want it to be) and sports a brushed aluminium finish for style and a steel structure for strength. You can put up a four-way SLI configuration here, no problem. How about 10 fans? Or 13 HDDs? Ultra indeed.
S$459
www.banleong.com/sg
Razer Blackwidow Chroma V2
There are plenty of candidates for excellent keyboards but when it comes to over-the-top it's hard to top this outlandish looking offering from Razer. It uses mechanical switches for satisfying tactile feedback, and more importantly it has a customisable array of 16.8 million colours for backlighting.
S$290
www.razerzone.com/sg
Logitech G900 Chaos Spectrum
This distinct-looking mouse from Logitech is uncompromising in every way. Its wireless performance is impressive and even the most hardened gamer will find it hard to say no. Ambidextrous, lightweight and customisable, its only drawback is that you're approaching S$300 for just a mouse.
S$249
www.logitech.com/en-sg
Alternative Gaming Options
If you feel that you're not keen on purchasing a relatively pricey system that will be obsolete in three years, and would rather keep your productive work and your gaming separate, then the world of consoles and handhelds may well be the way forward for you. There's plenty of games to be played either way, so it's not really a downgrade if you just want to have fun.
Consoles
The most natural substitute would be the console, which offers an extensive list of games, many of which are cross platform – you can enjoy many of the same games that your PC gaming friends are playing as well. Interestingly, console makers are offering different tiers of machines now, each offering varying levels of graphics performance, which is almost PC-like.
Microsoft Xbox One and Sony Playstation 4
Microsoft offers the Xbox One S, and now the Xbox One X (see p18), which will be out later this year. Sony offers the Playstation 4 and the Playstation 4 Pro. The games are still compatible with the older Xbox One and Playstation 4 machines, but only the newer consoles will get the graphical enhancements. It's a toss up between the two in all honesty which to buy, as many games are available on both consoles. Much depends on what your friends are using (for multiplayer) and which console exclusive games appeal to you more. Most hardcore console gamers own both machines…
Xbox One from S$499, Sony PS4 from S$449
www.xbox.com/en-sg, asia.playstation.com

Nintendo Switch
Nintendo's quirky device is like a step up over smartphone gaming in the sense that you can play it on the move. But it is also designed around the fact that you want to bring your console gaming along with you. The Switch not only lets you play online (service to launch later this year), you are able to play with a friend by passing one of the two controllers to him or her. For those who aren't too serious about their games, the Switch is a breath of fresh air as the games are centred around friends having fun instead of berating each other for being a useless piece of s*** over the comms channel when a raid goes awry.
S$659
www.maxsoftonline.com
Smartphone Gaming
There's really nothing wrong with smartphone gaming if you find that none of the above options suit your fancy. It's perfectly possible to enjoy video games just using a smartphone or tablet – there are plenty of games that will give you plenty of hours of entertainment.
Mobile Legends
This is the mobile version of Dota (Defense of the Ancients), without question the most famous MOBA (Multiplayer Online Battle Arena) game ever made. It is also extremely polished and almost captures completely the elements that made Dota such a hit. If you are a fan of such games and have only heard about this for the first time then prepare to be hooked.
Lineage 2 Revolution
Based on the desktop game Lineage 2 – an MMORPG (Massive Multiplayer Online Role Playing Game), the mobile version already had more than three million pre-registered users before its official launch. It's built on the Unreal Engine 4 and sports some pretty impressive graphics, and it can support massive 200-player real time battles.
The Elder Scrolls: Legends
Along with Hearthstone, collectible card video games are perfect on mobile devices as the touch interface lends itself perfectly to the gameplay. The combination of single player campaign and online multiplayer mode will keep you glued to your phone far longer than you'd like.
Monitors by the Numbers
Too many monitors to list, but here're some quickfire suggestions…
Really Budget: Asus VX228H
If the budget is tight, you can just go for the VX228H or VX278H – the main distinction being screen size. Although neither provides you with Freesync or G-sync, the 1ms response time of the display panel will help in some way. But at these prices, you can't really complain. If this isn't satisfactory, then…
22-inch S$169
www.asus.com/sg
Bang for Buck: Asus VG248EQEJ
Ideally, a monitor like this should be your starting point if you are serious about getting an optimal gaming experience. With a 1ms response time and a fixed 144Hz refresh rate, this 24-inch monitor not only is of a comfortably large size, it will also provide you with a smoother gaming experience.
S$499
www.asus.com/sg
Am in it for Looks too: HP Omen X 35
OK the truth is we chose because of how it looks. I mean, just look at it. But pressed for an explanation; it has 4ms response time, 100Hz refresh rate and supports G-sync. Because it's a VA panel as opposed to IPS, the contrast ratio is better at 2,500:1 static. You pay a premium for the looks, but then again at this price bracket, let's not kid ourselves…
S$1,699
www.hp.com/sg
Budget Widescreen: LG 34UC79G
Once you step up into the thousand-dollar mark, there are plenty of options afoot. But just for a change of pace, we thought you might want to think about a curved, 34-inch, ultra-wide monitor. The 5ms response time and 144Hz refresh rate ensures that you get respectably smooth rendering while your smile starts to match the width of the screen.
S$1,099
www.lg.com/sg