Over this week, there were a couple of articles due and I had to head on to different locations to capture photos as well as attend meetings. Thankfully, Lenovo kindly loaned me their new Yoga Slim 7i Carbon to aid me in my journey to fulfil deadlines.
Here's a quick overview of Lenovo's Yoga Slim 7i Carbon: The Yoga Slim 7i Carbon laptop is a perfect blend of strength, elegance, and performance. Crafted from high-strength carbon fibre and reinforced with magnesium alloy, this laptop offers a lightweight yet durable construction. With its stunning display, comfortable typing experience, exceptional performance, and long battery life, the Yoga Slim 7i Carbon is designed to meet the needs of professionals and enthusiasts alike. In this review, we will delve into the key features and benefits of the Yoga Slim 7i Carbon.
Crafted from high-strength carbon fibre, the top cover of the Yoga Slim 7i Carbon laptop is the result of high-precision manufacturing. With the use of the carbon-fibre material, the Yoga Slim 7i Carbon is 40% lighter yet 25% more rigid. Weighing just under 1kg, it felt like nothing carrying the laptop around with me across different locations. With such a weight, it kind of felt brittle, but knowing how strong carbon is as well as the rigorous tests the Yoga 7i has gone through, it keeps my mind at peace.
Speaking about the tests, this laptop has been rigorously tested and subjected to 21 MIL-STD 810H military-grade durability tests. Pulling out some of the tests, the Lenovo Yoga Slim 7i Carbon is tested to be resistant to drop, shock, rain, temperature, sand and dust proof. So to put it to the test, I brought it with me to the mall's food court, a cafe as well as the MRT.
Why these 3 locations? Well, these are common locations where you will see professionals whipping out their laptops to quickly send an email, make some proposed changes and more. Despite the different locations I was at, there were no changes to the Yoga Slim 7i Carbon be it in a greasier location at the food court or a more rugged location like the MRT. With the anti-fingerprint finish, there were no greasy fingerprints left on the scene.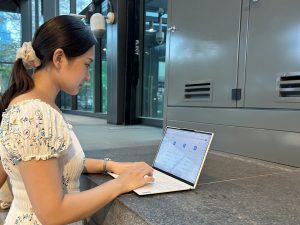 Speaking about the keyboard, as I was in public, loud clicky clacky typing is usually not as appreciated. It was a great design choice to keep the keyboard ergonomic as well as reduce the keyboard sounds for quieter typing. Also, the Yoga 7i has ambient light sensors that automatically adjust the brightness of the keyboard's backlighting, allowing for seamless typing even in low-light conditions. These subtle changes improve my user experience and allow for seamless working whenever needed.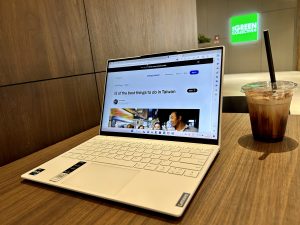 On the topic of performance, it was smooth throughout my time with the Yoga Slim 7i Carbon. The Yoga Slim 7i Carbon is built on the Intel® Evo™ platform and powered by 13th Gen Intel® Core™ processors so that users like myself that tend to use multiple applications don't experience any delay or interruptions while working. In addition, with the addition of Intel® WiFi 6, I was able to connect to my hotspot smoothly and not experience any lags when loading documents or sites.
Moving on to battery life, with the high capacity 50Wh battery, I didn't have to worry about my laptop dying and needing a charge. After being out since the morning, I was able to last the whole day without a recharge. Even if I do need a recharge, the adapter is also compact and light similar to the laptop. On the theme of durability, the Yoga Slim 7i Carbon smart lithium polymer battery can retain up to 80% of its full charge capacity after 800 charge cycles.
Overall, the Yoga Slim 7i Carbon laptop proves to be a reliable and versatile companion in various environments, including the food court, cafe, and MRT station. Its lightweight design, durable construction, immersive display, exceptional performance, and long battery life make it an excellent choice for professionals and travellers alike. The Lenovo Yoga Slim 7i can be purchased for $1,589 (with GST) and click here.