Renewed Confidence
Designed for all-day comfort
Aesthetic and functional, I am pleased with how well the Jabra Elite 5 looks and fits my ears. They sure do feel as good as they look. They're also comfortable in my ears, even for extended periods of usage.
Be it at school or work, being able to concentrate fully for long periods is crucial for my productivity and efficiency. With the Jabra Elite 5, I was able to fully concentrate thanks to its Innovative Hybrid Active Noise Cancellation (ANC). The Hybrid ANC cancels noise from inside and outside the ear. Because of this, the ANC effectiveness is less dependent on how you place the earbuds in your ears and provides more consistent noise cancelling over a wider frequency range.
When others talk to me, I am still able to
hear what they are saying without removing my earbuds with their Intuitive HearThrough technology. Furthermore, when I am switching between devices such as my phone and laptop, I do not have to disconnect the Elite 5 from either device. It's Bluetooth Multipoint keeps me connected to two devices at once. This makes it extremely convenient and makes my workflow seamless.
When I was outdoors, the clarity of my voice was still picked up during the
call despite the strong winds. I realised that Jabra Elite 5's 6-microphone call technology, which includes outdoor and internal microphones, amplifies my voice. Additionally, the Jabra Elite 5 is IP55-rated dust and water-resistant, making it perfect for being outdoors. With their Jabra Sound+ app, I am also able to curate my sounds just as I like them.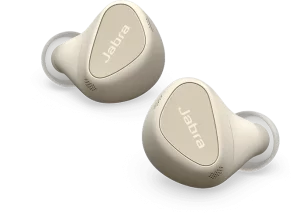 Rating:4.0
We say: We feel that although the Jabra Elite 5 is almost similar to other Jabra earbuds, it does have its distinctive features such as the Innovative Hybrid Active Noise Cancellation.
S$228
www.jabra.sg
Technical Specifications
Active Noise Cancellation (ANC) Hybrid ANC Adjustable HearThrough Yes Noise-isolating fit Yes
In-ear pressure relief Yes
Noise reduction on calls Yes
Speaker size 6mm / 0.236in
Speaker bandwidth (music mode) 20Hz – 20000Hz Speaker bandwidth (speak mode) 100Hz – 8000Hz Audio codecs supported AAC, Qualcomm® aptXTM, SBC Microphone type MEMS
Number of microphones 6
Microphone bandwidth 100Hz – 8000Hz