With my new Apple TV 4K, I am exposed to thousands of entertainment options. This ranges from Apple TV+ to Apple Music, to Apple Arcade. This review came at a great time as it is now the festive period, with many friends and family coming over to my place. The Apple TV 4K was such a great entertainment provider. This is their best-ever picture and audio quality yet. With the spectacular performance of the A15 Bionic chip, intuitive controls, and seamless connection with my Apple devices, the Apple TV 4K has been a pleasure to add to my Apple ecosystem.
The set-up was easy, as I just had to plug in the HDMI cable that attaches the Apple TV 4K to my smart TV. The internal setup was also intuitive, and I could easily sync my iPhone to the TV. Watching these shows and playing the games on TV was a much better experience than just playing on my phone. To use Apple TV, you just need a high-definition or 4K TV with HDMI support.
The remote control was also sensitive and looked sleek, blending seamlessly with the whole set-up.
First, let's talk about content to watch. In the Apple TV app, you'll find thousands of shows you can buy or rent, or channels to subscribe to. There's also Apple TV+ – Apple's all-original streaming service subscription that offers drama and comedy series, feature films, groundbreaking documentaries, and even kids and family entertainment. I especially love the quality of the Apple TV Originals.
I recommend the 'A Charlie Brown Christmas' movie, as it was a heartwarming movie that my friends and I watched together. Another show we enjoyed was also the new musical "Spirited", a reimagining of A Christmas Carol starring Will Ferrell and Ryan Reynolds.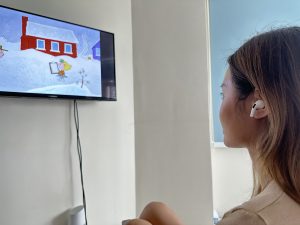 We could even connect AirPods to the TV for better surround sound. I felt that this is also useful for families with TV in their bedroom, and who want to watch a movie while their partner is sleeping. With cutting-edge HDR formats like Dolby Vision and now HDR10+, stunning details are showcased.
As I had another engagement while my friends were celebrating Christmas, they were nice enough to involve me through SharePlay. They Facetimed me and we were able to watch snippets of the movie together. What's cool was that I could even control if I wanted to pause the movie from my end! This made us feel more connected even though I could not be there physically, and I can see myself using this feature for overseas family gatherings in the future.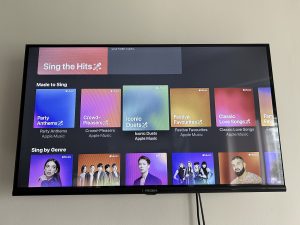 Apple Music, is a music, audio and video streaming service. I love how on TV, there are music video playlists where I can listen while watching the music videos. This is a great feature for gatherings, especially as white noise in the background.
Apple Music Sing is another feature my friends loved is the new karaoke feature. With their improved technology, the words on the screen matched the beat of the music perfectly. We had so much fun singing along, and it brought up the energy in the room. Truly a party-pleaser.
Another crowd-pleaser was the Apple arcade. For Apple TV 4K, there are hundreds of games specially optimised for the TV. On my big screen, playing Apple Arcade games is even more engaging. We especially enjoyed the racing games, such as Asphalt. Here is a short clip of me playing the game!
Overall, the Apple TV 4K was a great addition to my smart TV and was great to have especially during festive seasons when family and friends are over. I cannot wait for CNY when they are back again!
To purchase Apple TV 4K click here.