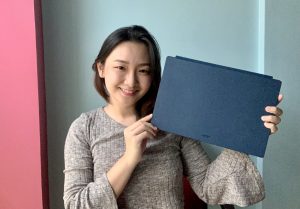 Over the course of the week, I had the chance to try out Acer's new Aspire Vero laptop, which features the new Intel Evo platform and is made with recycled materials. Frankly speaking, I was impressed by the laptop's long battery life and eco-friendly design. Here's a quick video of the product:
The new Acer Aspire Vero is an upgrade of its 2021 predecessor and is now more robust with the new Intel Evo platform that is a combination of 12th Gen Intel Core processors and Intel Iris Xe graphics. One of the coolest features of this platform is the superior wifi connectivity that it has. Usually, when connected to my hotspot, it is hard to even run a virtual meeting on Google Meets. With the Evo platform, the Google Meets meeting I had was smooth without any hiccups running on my phone hotspot.
One of the standout features of the Aspire Vero is its use of recycled materials in its construction. The laptop's chassis is made from 30% PCR plastic, which reduces carbon emissions from the manufacturing process by 21%. This not only helps to reduce the environmental impact of the laptop but also gives the Aspire Vero a unique and stylish look.
With the speckled blue design, it does give off a galaxy design which is unique as compared to many other laptops that are usually black or silver. Not only that, but blue is lovely against a brown and green background.
In terms of performance, the Aspire Vero is powered by the new Intel Evo platform, which provides fast and responsive performance. The laptop also features a long-lasting battery, which can support up to 16.5 hours of video playback (4 or more hours of battery life in a 30-minute charge). This makes the Aspire Vero a great option for those who need a reliable laptop for work or study, and it means that you can use the laptop all day without having to worry about running out of power.
Overall, I was impressed by the Acer Aspire Vero and its eco-friendly design and long battery life. If you are looking for a laptop that is both sustainable and reliable, the Aspire Vero is definitely worth considering.
For more information or to purchase click here.