Danish audio brand Bang & Olufsen today introduced Beosound Theatre: a unique and precisely constructed high-end soundbar that delivers the power of a multi-product home cinema, all in one singular device, with the mission to be the world's most powerful and immersive soundbar.
"Beosound Theatre completely redefines cinematic sound in the home. With its powerful sound, advanced technology platform and modular design, we bring the immersion of a multi-speaker setup into one soundbar that slots seamlessly with any screen", said Kristian Teär CEO of Bang & Olufsen and continued: "With Beosound Theatre we unleash the full potential of the high-quality streaming services now available to customers and bring the magic of the cinematic experience into the home. At the same time, it is built to last for decades due to its modular design, which allows you to update, rather than replace, this beautiful soundbar".
AN ENTIRE CINEMA IN ONE BEAUTIFUL SOUNDBAR
Beosound Theatre comes with 12 speaker drivers, including two custom-made long stroke 6.5″ woofers, and 800 watts of amplification power, capable of producing up to 112dB of sound pressure level. The custom-made centre channel, with the tweeter situated immediately in front of the midrange, manages speech clarity. The alignment of these drivers offers greater sound distribution, enhancing the quality audio experience for everyone in the room, while directivity has been optimized for speech clarity.
Beosound Theatre delivers a unique three-dimensional sound directivity thanks to the patent-pending combination of direct, side-, and up-firing speakers, building on the Beam Width and Beam Direction Control developed for Bang & Olufsen's flagship Beolab 90 speakers. This means that all loudspeaker drivers collaborate not just to produce sound but also to manage the beam width and direction.
"We originally developed the Beam Width and Beam Directivity Control for Beolab 90 to reduce the effect of sidewall reflections at the listening position. Basically, to make the walls disappear. In Beosound Theatre, we are using the technology to direct sound away from the listener, which increases the perception of spaciousness and gives a much more immersive experience", said Senior Technology Specialist Jakob Dyreby.
A BANG & OLUFSEN TV EXPERIENCE DESIGNED FOR ALMOST ANY SCREEN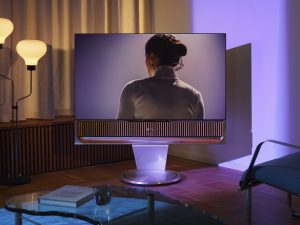 Bang & Olufsen is known for its one-of-a-kind approach to workmanship and design. Customers can effortlessly change the soundbar into a complete wall-mounted or floor-standing Bang & Olufsen TV experience using modularity principles, so it blends in flawlessly and takes up no more space than their existing TV.
The modular design concept extends to the TV displays and the soundbar cover, which is both removable. Customers whose TV displays grow as they update can also extend the aluminium "wings," demonstrating that Beosound Theatre continues to provide precisely integrated solutions for enhanced longevity.
"We know that our customers want to invest in products that last, which is why Beosound Theatre has been modularly designed to outlast many TVs in its lifetime. We have made a solution that enables you to update your product rather than replace it, and a product that can evolve with you over time", said Head of Product Circularity, Mads Kogsgaard Hansen. He continued:
"The Beosound Theatre interface bracket provides the possibility to dock almost any screen to the soundbar. This means that people don't have to invest in a new TV or can simply choose what they believe is the best TV solution."
The interface bracket is motorized and connects the stand to the TV screen seamlessly. The mount has a section to fit smart TV boxes and hide excess cables from view, cleverly masking any clutter to display the TV as one integrated design.
Although Beosound Theatre is a powerful one-product solution, it may expand into a dedicated sound centre, opening up additional possibilities for building your home cinema. It has seven built-in outputs and can handle up to 16 external loudspeakers, making it the heart of a full-fledged Dolby Atmos 7.1.4 surround arrangement. In this configuration, Beosound Theatre serves as a centre speaker, combining Dolby Atmos decoding and custom-tuned post-processing with Bang & Olufsen's proprietary True Image algorithm.
Furthermore, Beosound Theatre includes a revolutionary new bass management system. Whereas other systems send the bass to the loudspeaker with the strongest power – usually the subwoofer – Beosound Theatre uses all Bang & Olufsen loudspeakers in the system to work as a single unit. This not only maximizes the overall system's capabilities but also helps to manage the resonance in your listening space, ensuring that the numerous loudspeakers work together rather than against each other.
"You can buy Beosound Theatre as a soundbar and later add a pair of rear loudspeakers such as Beolab 28 in a triangular setup that delivers an incredible spatial sound performance while continuing the overarching aim of minimal products, mess, and compromise in your space. All you need to do is connect them. That flexibility also means that our customers are not limited by their initial purchase decision, which in turn helps us extend the lifetime of Beosound Theatre and increase the likelihood of multiple ownerships," said Senior Technology Specialist Jakob Dyreby.
INSPIRED BY THE GRACE OF SAILBOATS
Beosound Theatre follows the design philosophy of popular Bang & Olufsen products such as the Beolab 8000, Beolab 18, and Beolab 28, which focused on making a large volume appear to balance on a pinpoint. Beosound Theatre's keel-like design mimics the effortless grace of sailboats, making it appear to be resting on an aluminium blade and floating in the air as one fluid form.
The aluminium expertise at Bang & Olufsen's Factory 5 in Struer, Denmark, was used to produce this illusion. The middle-extruded aluminium profile was polished and anodized, with two end caps made into a curved shape and split into four end caps. This allows the product's curving edge to effortlessly meet the flat contour of the soundbar, resulting in one unified piece.
The solid oak lamella cover is handcrafted in Denmark by a family-run manufacturer and ideally complements Bang & Olufsen's Beolab speakers, including the Beolab 18, Beolab 28, and Beolab 50. The clip-in rather than glued-in construction of the lamellas allows them to be readily disassembled or replaced, while the fabric version is designed to be a visually softer option that will easily merge into any interior environment.
EASY SETUP WITH NEW ROOM SENSE TECHNOLOGY
Bang & Olufsen's innovative Roomsense setup technology is included with the Beosound Theatre. Beosound Theatre will work with the Bang & Olufsen App to measure the distance between the listener and the soundbar by inserting an external microphone in the listening location. More than that, it will assign a job to each speaker based on its placement, perform sound compensation for each speaker whether it is free-standing, against a wall, or in a corner, and do overall room compensation to eliminate unwanted resonance.
"With Roomsense, everyone can make the perfect setup in a matter of seconds. But just as important, it allows for all kinds of placements of the speakers, so people can decorate their homes as they want – not based on the standard speaker placement", said Jakob Dyreby.
NEXT GENERATION LISTENING – FOR GENERATIONS TO COME
Not only does Beosound Theatre pay homage to Bang & Olufsen's legacy products with its timeless design language, but it also comes with Bang & Olufsen's own proprietary software platform called "Mozart," which continues the legacy of ensuring that the soundbar can connect seamlessly with products dating back to 1986, creating a cross-generational home audio setup.
"Products such as the Beolab 6000 and Beolab 8000 column speakers are loved by people who appreciate design worldwide and we have made sure that they can use them with Beosound Theatre right out of the box. All you need to do is connect them", said Chief Design Officer Miklu Silvanto.
The Mozart platform honours the past while simultaneously anticipating the future. Because the platform is rich in processing power and memory, Bang & Olufsen can gradually integrate new features, capabilities, and connectivity to offer an equally seamless experience with current and future home audio settings.
The Beosound Theatre will be available from October onwards with pricing that has yet to launch. For more information on the Beosound Theatre click here.