From windmills to heritage sites, sightseeing adventures will not be forgotten with my travel photos.
It seems like I am always travelling if you are reading my Canon camera reviews or following me on Instagram, but it's not the case. I just take so many amazing photos in my time abroad, especially capturing my happiest moments, that I am never out of travel photos in between trips! This is all thanks to my handy travel companion, Canon EOS R6, that has been accompanying me on my adventure since the start of the year.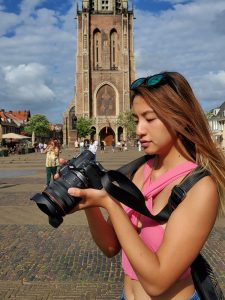 My most recent journey was to Brussels and the Netherlands where I visited heritage sites while enjoying modern entertainment and culture. The adventure began in Tomorrowland in Brussels, where I kept my camera safely in a locker and away from prying hands in the music festival camping site, and only began my photography journey after in Brussels City.
I had a day of sightseeing in Brussels, and a local friend brought me to see the Royal Palace of Brussels, which is the King's administrative residence and main workplace.
Canon EOS R6 | RF 14-35mm F4 L IS USM
While the sunset was late (past 8 pm), I enjoyed every meal thoroughly including mussels and fries, and ended up having to shoot more photos in the night. One of the most iconic attractions is Grand Place, built in the early 15th century and now surrounded by opulent guild halls. Shooting at the Grand Place was a challenge with a huge crowd and dim lights from the lamp posts, but the Canon EOS R6 and the wide-angle lens I used never disappoint in harsh lighting conditions. With slight editing, the photo looks good to go with minimal noise and sharp details.
If you think that a camera's burst shooting capabilities and autofocus come in handy for moving subjects, think again. In windy conditions and flowing hair and dress, or revolving windmills behind me, only a high-performance camera can capture all the details sharply. With fast readout and high processing power, Canon EOS R6 autofocus and burst shooting capabilities came in handy when I was in Zaanse Schans capturing the windmills. How gorgeous do the historic windmills, distinctive green wooden houses and calm canal look?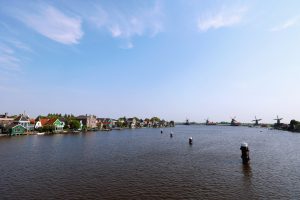 Mealtimes are my favourite moments when travelling as a big foodie. I not only love good food and wines but also restaurants with a view, including dining at Euromast Tower in Rotterdam, my final destination before going home. Canon EOS R6 is equally handy with portrait photography as with wider shots.
I am proud to claim that the Canon EOS R6 has one of the most advanced AF (autofocus) systems yet, which includes a subject recognition system trained by machine learning. A lot of tech players may name-drop AI and ML for namesake and buzz, but I promise it brings more than a fancy label. The camera is able to recognize eyes and faces and will remain focused on the subject even if they look away for a bit. It can also prioritise what subjects to stay in focus for.
The photos I featured in this review are mostly portraits as it works well for me on social media and wallpapers. I still recommend you explore wide-angle shots in a horizontal mode which will be interesting especially for sceneries as well.
Overall, I had as much fun in Brussels and the Netherlands as I had taking photos or getting my travel photos taken as well. I do hope you enjoy reading my travel and photography, and I can't wait to share more on Instagram and on NXT.
Learn more about Canon EOS R6 and the lenses at https://sg.canon/