Canon's first R-series mirrorless cameras with APS-C format cater to wildlife and action photography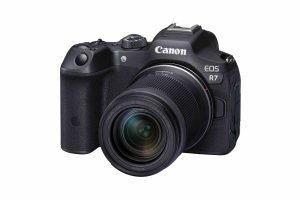 Canon has revisited the APS-C image sensor format with the latest EOS R7 and EOS R10. The R7 is the higher-spec model designed for more experienced users, while the R10 has a smaller form factor that is lighter on the shoulder and pocket. As the APS-C sensors are 40% the size of 35mm full-frame image sensors, the camera and lens system can be built smaller than the full-frame cameras, and prices can be more affordable while delivering similar or better performance than the full-frame series.
The EOS R7 is powered by a DIGIC X image processing engine, the same as the full-frame EOS R3, which improves object tracking across the entire image area and provides higher responsive and reliable autofocusing even in dynamic scenes. Throw in the 15 fps high-speed continuous shooting (or 30 fps in electronic shutter mode) and the EOS R7 is practically unstoppable in delivering the perfect action shot. There is also little reason to miss a shot thanks to the pre-shooting feature, which starts recording the scene up to 0.5 seconds before the shutter is released.
The EOS R7 also features weather sealing, in-body image stabilisation, and dual SD card slots. There are also ample knobs, scroll wheel, dials and buttons all over the body for quick access to important parameters so that you do not have to scroll the menu to get to them. A remarkable feature is the 5-axis in-body Image Stabilisation mechanism with sensor-shift which can achieve up to 8 stops equivalent stabilisation. Video content creators will also be able to record high-quality 4K UHD video at up to 30p with 7K oversampling, as well as supporting Canon Log 3 gamma for colour grading and HDR video production.
To cater to casual enthusiasts, the EOS R7 now supports in-camera panorama shots to stitch photos, as well as the Depth Compositing mode to merge focus-bracketed images to create an image with a large depth of field. The 18-150mm bundled zoom lens delivers versatility without sacrificing size and weight. I enjoy the overall handling, its deep handgrip, and generous customisation settings that are available in the premium models.
In just under an hour, I expended nearly 2000 images shooting the birds and the bees. Despite a maximum f/6.3 at the zoom end, I am still able to capture memorable moments in the wild. Here are some photos that were taken with the EOS R7 with 18-150mm to demonstrate the zoom lens range as well as the image capture speed.
Rating: 4.0
We say: A compact mirrorless camera that captures professional images at high speeds with an affordable price tag, the EOS R7 will win existing APS-C loyalists as well as new fans.
S$2,049 (body only)
S$2,649 (with RF-S 18-150mm)
Technical Specifications
Canon EOS R7
Image Processor DIGIC X
Sensor Size 32.5 MP APS-C CMOS
ISO 100-32000 (Stills), 100-12800 (Movie) Max Shutter Speed 1/16,000 sec Viewfinder 0.39-inch OLED 2.36 million dots Size 132 x 90.4 x 91.7 mm
Weight 612 g (including battery)
RF-S18-150mm f/3.5-6.3 IS STM
Focal Length 18-150mm
Maximum Aperture f/3.5-6.3
Lens Construction 17 elements in 13 groups Filter Size Diameter 55mm
Size (DxL) 69 x 84.5mm Weight 310 g