OPPO Singapore announced the latest member of its popular Reno series, the OPPO Reno7 Pro 5G. Powered by the new Flagship Portrait Camera System built around two flagship imaging sensors — the IMX709 and the IMX766 — the Reno7 Pro 5G delivers a generational leap in portrait image performance, offering unlimited possibilities in photo and video at the touch of a button.
The OPPO Reno7 Pro 5G features the iconic OPPO Glow glass on its back cover with the Laser Direct Imaging (LDI) technology for the first time ever in the industry, and boosts flagship-level 5G performance powered by MediaTek Dimensity 1200-MAX. At the same time, a 4500mAh battery and 65W SUPERVOOC guarantee an extraordinary, long-lasting experience, while the ColorOS 12 creates a convenient and efficient user experience on smartphone.
With all these features packed into a sleek and light smartphone, the Reno7 Pro 5G is the portrait expert designed to help users get the most out of the 5G era.
Powering the Reno7 Pro 5G's impressive imaging capabilities is the mighty Flagship Portrait Camera System, comprising a 50MP main camera powered by a flagship IMX766 sensor, an 8MP ultra-wide-angle camera, a 2MP macro camera, and a dedicated colour temperature sensor on the rear of the device. On the front, the 32MP front camera is powered by a next-generation flagship RGBW sensor — the IMX709 — which has been co-developed by OPPO and Sony.
Excitingly, this new IMX709 sensor makes its world debut on the Reno7 Pro 5G. It introduces an all-new RGBW pixel array that contains additional white pixels not found in traditional RGGB image sensors. When combined with OPPO's self-developed Quadra Binning algorithm, the sensor is able to boost light intake without reducing colour information. The Quadra Binning algorithm has also been embedded directly onto the IMX709, greatly improving cross-platform compatibility and image processing efficiency. With these innovations, the Reno7 Pro 5G with the IMX709 sensor can capture 60% more light than standard RGGB sensors while reducing noise by up to 35%. This enables the Reno7 Pro 5G to capture significantly clearer and brighter images in low-light conditions, making portraits more expressive in both photo and video through enhancements to skin, texture, and contrast.
Additionally, the Reno7 Pro 5G comes with the industry-first use of DOL-HDR on its front camera that enables users to easily capture high-quality selfie videos. The Smart Wide-angle takes it a step further in allowing users to take picture-perfect selfies in various scenarios.
On the rear of the phone, the main camera features a flagship IMX766 sensor with a large 1/1.56-inch sensor and advanced technologies including All Pixel Omni-Directional PDAF and DOL-HDR, guaranteeing an enhanced portrait experience from the ground up.
Taking full advantage of this flagship-level hardware foundation, the Reno7 Pro 5G comes packed with a series of impressive imaging features:
–      AI Highlight Video can automatically detect the ambient light in a scene and make optimisations accordingly. With a 3D LUT (3D Lookup Table) colour tuning algorithm, AI Highlight Video provides more accurate colour tuning to enhance skin tone, helping subjects stand out in portrait videos.
–      Bokeh Flare Portrait Video enables users to capture portrait videos with bokeh light spots on the background, like the bokeh effect of a DSLR camera. On the Reno7 Pro 5G, the Bokeh Flare Portrait Video has been updated to further enhance skin tone, especially in dark environments, against solid-coloured backgrounds, or when the colour of the background is close to the colour of the main subject's skin tone. As a result, portrait subjects stand out from the background while maintaining a natural appearance.
–      Portrait Mode intelligently applies a depth of field effect to the image background, including beautiful bokeh light spots, to make portrait subjects stand out more than before. Users can choose from 25 adjustment levels to change the virtual aperture size and the corresponding size of the bokeh light spots on the background to create original-yet-realistic portrait photos.
The Reno7 Pro 5G also includes a series of features to help users take clearer photos and videos with enhanced creativity. Focus Tracking, Dual-View Video, Flash Snapshot, and other features all give users the creative tools to express themselves and record special moments in their own style.
Inheriting the hallmark OPPO Glow design of the Reno series, the Reno7 Pro 5G comes in two fresh new colours: Startrails Blue and Starlight Black.
In addition to using the exclusive OPPO Glow manufacturing process, Laser Direct Imaging (LDI) technology has been applied to the back case of Reno7 Pro 5G, making it the first time that LDI has been used on the exterior of a smartphone. On the back cover of the Reno7 Pro 5G in Startrails Blue, 1.2 million micro-rasters have been etched onto the photoresist-coated AG glass with the sophisticated LDI technology. The overall visual effect is similar to that of thousands of comets flashing across the sky, leaving long trails of light in their wake.
Bringing even more light to the back cover is the Orbit Breathing Light, an industry-first, 3D circular light surrounding the camera area. The Orbit Breathing Light gently emits light when receiving incoming calls or notifications, adding an even dreamier atmosphere to the back cover of the phone.
On the front of the phone, a 6.5-inch AMOLED display with a 90Hz refresh rate delivers a super-smooth and comfortable viewing experience. The display is HDR10+ certified for a more vivid and higher quality visual experience while also being Amazon Prime Video HD and HDR certified for high-quality visual content.
The Reno7 Pro 5G also features a new ultra-slim design, with 2.5D glass applied to both the front and back of the phone to give it a super sleek and minimal look while avoiding unintended touches of the screen during use. On top of this, Reno7 Pro 5G remains extremely thin and light, with a thickness of just 7.45mm and a total weight of only about 180g.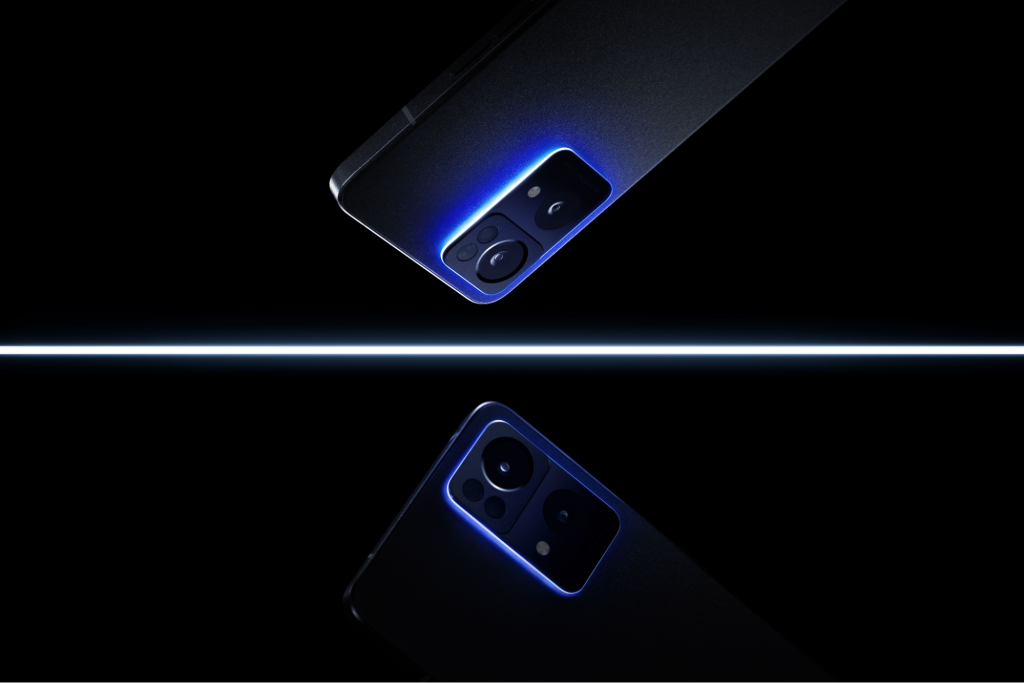 To deliver an even more powerful 5G performance, the Reno7 Pro 5G features the MediaTek Dimensity 1200-MAX flagship-level 5G-integrated SoC. Built on a 6nm process, the octa-core SoC includes an ARM Cortex-A78 core operating at up to 3GHz, delivering ultimate computing power with lower power consumption.
The new Reno7 Pro 5G comes with 12GB of RAM and 256GB ROM as standard. When used with RAM Expansion technology developed by OPPO, the phone's original 12GB of RAM can be supplemented with a massive 7GB by temporarily allocating ROM, enabling multiple memory-heavy apps to be run simultaneously with less lag.
With 65W SUPERVOOC, the 4500mAh large battery of Reno7 Pro 5G can be fully charged in as little as 31 minutes; meanwhile, a 5-minute charge offers 4 hours of movie playback. To deliver a better all-around mobile gaming experience, a top-of-the-line X-Axis Linear Motor has been added to create more immersion. AI Frame Rate Stabilizer will evaluate the frame rate in real-time and provide stabilisation accordingly to ensure consistently smooth gameplay for selected games including Mobile Legend, PUBG, and Call of Duty: Mobile.
As part of the first series to be installed with ColorOS 12 out of the box, the Reno7 Pro 5G gives users immediate access to a more convenient, smoother, and smarter operating system.
The brand-new Inclusive Design and 3D Icons in ColorOS 12 offer a more intuitive and simpler way for users to interact with their phones. The new Omoji feature also creates new avenues for personalisation with a variety of customisation options and real-time facial tracking through OPPO's advanced Face Capture Algorithm.
ColorOS 12 also delivers greater convenience and productivity by removing unnecessary steps and barriers. For example, PC Connect can connect Reno7 Pro 5G seamlessly with a PC via Bluetooth or by scanning a QR code, making working across multiple devices so much easier and more efficient.
When it comes to data security and privacy, ColorOS 12 has been certified by third parties including ISO, ePrivacy, and TrustArc, and includes features like Anti-peeping for Notifications to help further protect users privacy in day-to-day use.
Pricing and Availability
The OPPO Reno7 Pro 5G will be available from 15 January at a retail price of MYR$3310 at OPPO Concept Stores, OPPO's Shopee and Lazada Flagship Stores, and all authorised retailers.