With the latest generation of PCs, mobile phones and gaming consoles just around the corner, perhaps it's time to consider upgrading your home wireless router to the latest 802.11ax standard, which is marketed as WiFi 6. 
In the past we've already seen and reviewed a number of WiFi 6 compatible devices, such as the Lenovo Legion 5 gaming notebook and Apple's iPhone 11 Pro Max, but while using our existing home 802.11ac WiFi network. The Linksys dual-band MR9600 (AX6000) WiFi 6 mesh router is the first 802.11ax wireless router we've reviewed, and it can be used as either a standalone wireless router that can cover up to 280 square metres and offers up to 6 Gbps of speed and can also be integrated into an existing Linksys Intelligent Mesh network system.
The new WiFi 6 specification has a number of advantages over the 802.11ac standard, including a wider range of frequency bands, from 1 to 6 GHz, which you will find very useful when everyone in your apartment block has a WiFi router, as well as Orthogonal Frequency-Division Multiple Access (OFDMA) that allows simultaneous transmission of data to multiple devices and improved MU-MIMO for multiple data downlink and uplink.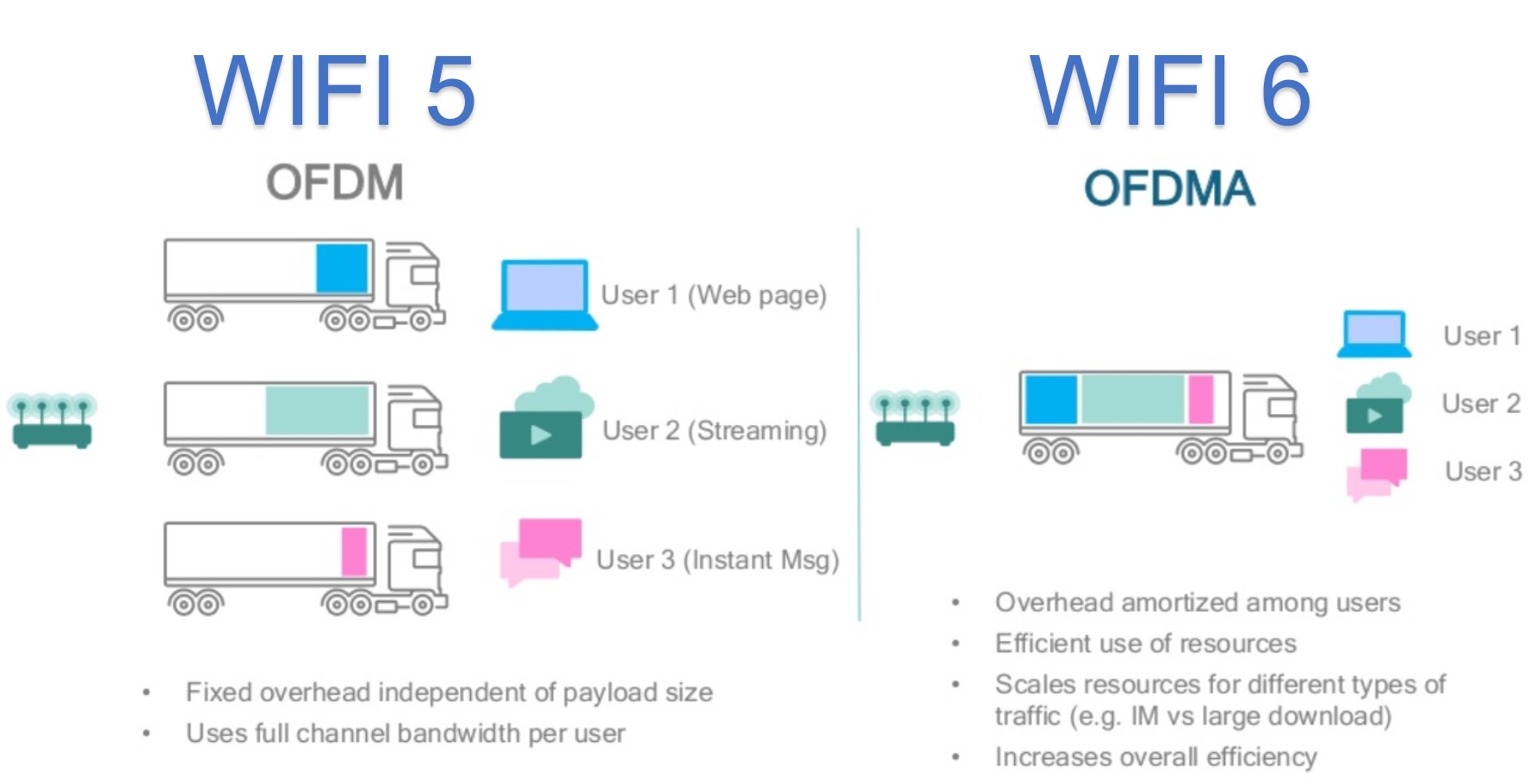 If you already have a Linksys Intelligent Mesh home network, the MR9600 can be easily added to your existing home network to expand its capabilities as it has 4×4 WiFi 6 and MU-MIMO, low latency and the ability to handle over 40 devices simultaneously, plus WPA3 security. 
In the image below you can see that for this review I started upgrading my home mesh network by integrating the MR9600 with my existing Linksys MR9000X gaming router and a pair of two-year-old tri-band Velop nodes, but discovered, by using the Speedtest by Ookla app on my Apple iPad, that due to improved WiFi range I didn't need the two older Velop nodes as the two MR-series routers provided complete coverage (including kitchen and balcony) for my five-room, two-story maisonette. 
Physically, the MR9600 is quite slim and looks a bit like a cable TV box, though it does have two non-removable antennas mounted on swivels on both sides of the device. At the back is a standard Gigabit Ethernet configuration of five ports, one for WAN and four for LAN, though it does have two USB3.0 ports for connecting external hard drives to your wireless network. A WPS button is located on the right side of the router.
Set up is simple, simply plug the router to your modem with an Ethernet cable, plug in its power adaptor and turn it on, then download the Linksys app onto your smart device and follow on-screen instructions, which takes about ten minutes, including registering a new Linksys account. If you have an existing Linksys account and mesh network, just select the options to add the MR9600 as a new child node or a replacement master node. For general users, the Linksys app enables a range of simple settings and lets you not only set parental controls and guest access but also enable device prioritisation so you can ensure that your 4K smart TV will not lag or pause when streaming 4K Netflix content. More experienced users can use the Linksys Smart Wi-Fi browser interface to access the router for more advanced setting changes.
I tried testing the MR9600 as a standalone wireless router and found it to hit very fast speeds, registering up to 718mbps download and 445mbps upload via the Speedtest app on a Huawei P40 Pro+, which is a WiFi 6 device, while I streamed Full-HD Netflix while walking around my home to test out the MR9600's smart beamforming technology, which works quite well. This is very fast as I'm on a standard 1GB M1 fibre broadband plan.
With a 1.8GHz Quad-Core processor and 512MB of RAM the MR9600 is able to handle multiple loads quite seamlessly, without noticeable lag or pausing, and easily handled a simultaneous load test of streaming 4K content to a smart TV, while playing Spotify on a smart speaker and streaming the Netflix documentary BLACKPINK: Light Up the Sky on an iPhone 11 Pro Max (also a WiFi 6 device) while I roamed around the house.
Integrating the MR9600 into my existing mesh network lead to a number of other benefits, as not only overall data speed improves (as shown in the Speedtest image below), but also signal range, with better reception at previous 'cool-spots' of my home WiFi coverage, such as my kitchen, which was now able to receive a stable 245Mbps download signal, where previously it was below 98Mbps. Power consumption has also been improved, as I'm now using two routers to cover the same area that I had to use three Velop mesh routers, and the MR9600 has better power efficiency and doesn't run as hot as some other routers.
Overall the Linksys MR9600 router does what Linksys intends it to do – it brings the benefits of WiFi 6 to consumers in an easy to set-up router package, and as one that will integrate with your existing mesh network.
SRP S$499
Exclusively for NXT readers, Linksys is currently running a special Shopee promotion of the MR9600 dual-band mesh WiFi 6 router, where you can get $10 off when you buy Linksys MR9600 from the Linksys Official Store on Shopee
Apply discount code: LINS10OFF18. Terms and Condition applies.
Also available at Challenger, Hachi.tech and the Linksys Official Store on Lazada.
Terms and conditions of Linksys/NXT Shopee promotion:
– Only valid for purchases made on Linksys Official Store.
– Voucher redemption limited to first 20 first-time Shopee customers only.
Verdict
Rating: 4.5/5
The MR9600 router brings the benefits of WiFi 6 with a router that's relatively easy to use, simple to set up using the Linksys App and is pretty power-efficient.