Following the success of the Dyson Supersonic hair dryer, Dyson unveiled their second piece of beauty technology: the Dyson Airwrap styler. The Dyson Airwrap styler uses jets of air to allow you to achieve voluminous curls, natural waves and smooth blow-dry finishes at home.
Technology By Design
Dyson engineers came up with the idea to harness Dyson's digital motor to create a phenomenon known as the Coanda effect. The Coanda effect occurs when a high-speed jet of air flows across a surface and, due to differences in pressure, the air flow attaches itself to the surface. Taking advantage of this principle, Dyson's team of aerodynamicists created a way to style hair using only air combined with heat.
The result – Whether you choose to curl, wave, smooth or rough dry your hair, creates a natural look with a sleek finish, helping prevent extreme heat damage.
Created by an in-house team of experts, the Dyson digital motor V9 powers the Dyson Airwrap styler. Partnered with Dyson's unique styling barrels this motor enables the Dyson Airwrap styler to style with air, without the need for extreme heat.
The motor spins to create an area of high pressure at the top of the styling barrel. A high velocity jet of air disperses out of six air slots around the barrel.  This generates a physical phenomenon known as the Coanda effect which allows the hair to curl around the barrel to style.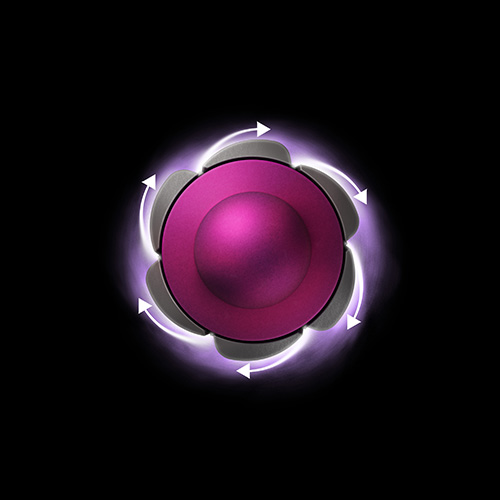 The machine's styling brushes are also engineered to take advantage of the Coanda effect. To achieve a sleek blow dry finish, the brushes align hair when styling, helping to provide a smooth shiny finish when dry.
Style While You Dry
In order to keep the airflow focused in the desired styling direction engineers incorporated a switching mechanism.  This directs airflow according to the tension in the brush. No matter which way you brush through hair strands, the air flows in the direction of your hair. This helps achieve a stylist-inspired blow dry finish.
Often, styling hair means blow drying before styling. The Dyson Airwrap styler styles wet to dry.
Hydrogen bonds line each strand of your hair. When hair is wet this breaks down the hydrogen bonds – resetting the natural style of your hair priming it for styling.
After choosing the attachment for the desired look, the combination of powerful airflow and heat control allows you to style without extreme heat with ease – saving time and avoiding tangling.
Intelligent Heat Control
Styling your hair should not be synonymous with damaging your hair. Like the Dyson Supersonic hair dryer, the Dyson Airwrap styler has intelligent heat control. A glass bead thermistor measures the temperature up to 40 times a second, transmitting temperature data to the microprocessor and regulating the products temperature.  This helps ensure hair does not become exposed to extreme heat.
The Attachments
The Dyson Airwrap styler comes in three different variants with specific attachments, designed with different hair types and desired looks in mind.  
Pre-styling dryer

: Prepares hair for styling using a fast but diffused airflow. Engineered for all hair types, it's designed to dry hair to the ideal moisture level (damp to touch) before using the curling barrels.

Soft smoothing brush

: Engineered to add body and volume to limp, flat hair while creating a smooth, blow dry finish. Ball-tipped bristles allow for increased tension to help keep hair aligned to the brush.

40mm Airwrap barrel

: To create loose curls or waves for thicker, coarser hair that has some shape.

30mm Airwrap barrel

: To create voluminous curls or waves for most hair types. Achieve voluminous curls for those with limp, finer or straighter hair. Get tighter curls for those with thicker, coarser hair with some shape.

Firm smoothing brush

: To create a straighter style with less frizz. Engineered to tame and smooth unruly, thicker, coarser hair, with firm straight bristles to help create tension and reduce tangling.

Round volumizing brush

: To create volume and shape. Ideal for creating tension to shape finer, thinner and straighter hair.