If there's ever a pair of runners that you should buy without much thought, this is it – the New Balance FuelCell Impulse. No matter the size and shape of your feet, these kicks fit like a second skin and feel like you're walking on marshmallows.
Right out of the box, you'll see the bright highlighter orange of the FuelCell's upper body – it is made out of bootie construction and a jacquard knit forefoot. The midsole is mainly white, but it's plastered with orange and black patterns in the front half, with the word FUELCELL etched on the outer sole. The black heel cup has the New Balance "NB" insignia on either side over a textured layering that supports the build. The FuelCell Impulse I tested was in the Flame with Black colourway, and there's also a reverse Black with Magnet pattern.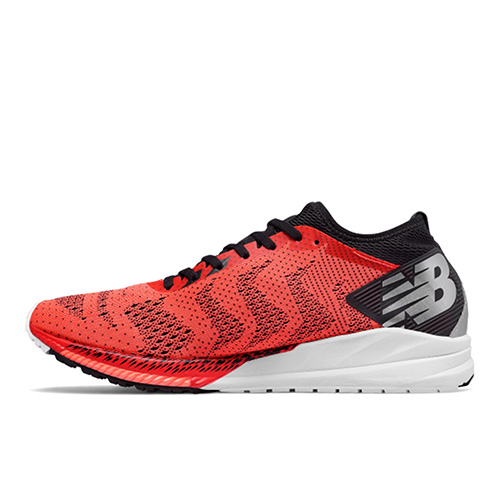 If you have narrow feet, you'll feel that the upper feels a little roomy even after tightening the laces. The jacquard knit forefoot provides for a comfortable feel and the stretchable bit around the ankles conforms your shape perfectly without being too tight. Even before running, you will notice that the weight of the FuelCell is negligible, and if you're used to heavy cushioning, this shoe will feel like it's not there either.
Starting with a slow jog, the FuelCell's lightweight specs comes into play immediately. You will feel very light on your feet and move quicker with every step. Running on your toes will provides the highest level of comfort due to its nitrogen-infused forefoot that gives you an added boost each time you push off. The holes in the mesh upper allows you the feel the breeze grazing your feet as you run, but in wet conditions, it could trap water and make for an bumpy run.
If you are heavy on your feet, running long distances with this shoe could be painful simply because the cushioning isn't as hefty as New Balance's other offerings. Simply put, these kicks are made for fast/light runners, but at the same time it can double up as a fully functional workout shoe.
If you have narrow feet, the long laces will cover the upper and give you constant bumps as you run. Switch the stock laces with a set of sports ones, or if you're on a budget, cut the stock ones down to size. To counter the problem of an upper that collects water, spray on a water repellent agent before you go for a run in wet conditions.
Verdict
Rating: 4/5
S$259 (for ladies & men)
These running shoes feel very light and comfortable to wear, but as lightweight runners with minimal padding they take some getting used to, especially as they are set up for a more forward, midfoot running position. They also feel a bit loose for those with narrow feet.