Razer, announced three new products at PAX West and IFA: the Razer Kraken Tournament Edition headset, the BlackWidow Elite keyboard and the Razer Mamba Wireless mouse.
Razer Kraken Tournament Edition
Gamers with the Razer Kraken Tournament Edition can now experience pinpoint positional sound with THX Spatial Audio, and extreme comfort with cooling gel ear cushions for long gaming sessions.
This latest evolution of the Razer Kraken is the complete competitive gaming solution for delivering full audio controls via a USB Audio Controller. The controller allows on-the-fly bass level adjustment, and a customized mix between game and team chat volume through Game/Chat Balance.
The headset has been designed with cooling gel-infused ear cushions, hidden eyewear channels, and an improved ultra-soft padded headband for complete comfort during long gaming sessions.
The Razer Kraken Tournament Edition is the world's first gaming headset to support THX Spatial Audio – creating realistic depth and immersion by simulating 360° sound with pinpoint accuracy for greater awareness during gameplay. This technology combined with custom-tuned 50mm drivers provide clarity and a punchy bass. With its 3.5mm combo audio jack, the Razer Kraken Tournament Edition is also cross-platform compatible, working with the PlayStation 4, Xbox One, Nintendo Switch and mobile devices alike.
Razer BlackWidow Elite
Unlock new levels of control with the improved Razer BlackWidow Elite and its best-in-class Razer Mechanical Switches, dedicated media keys, Multi-Function Digital Dial and Razer Hypershift, which allows every key to become a macro key via Razer's Synapse 3 software.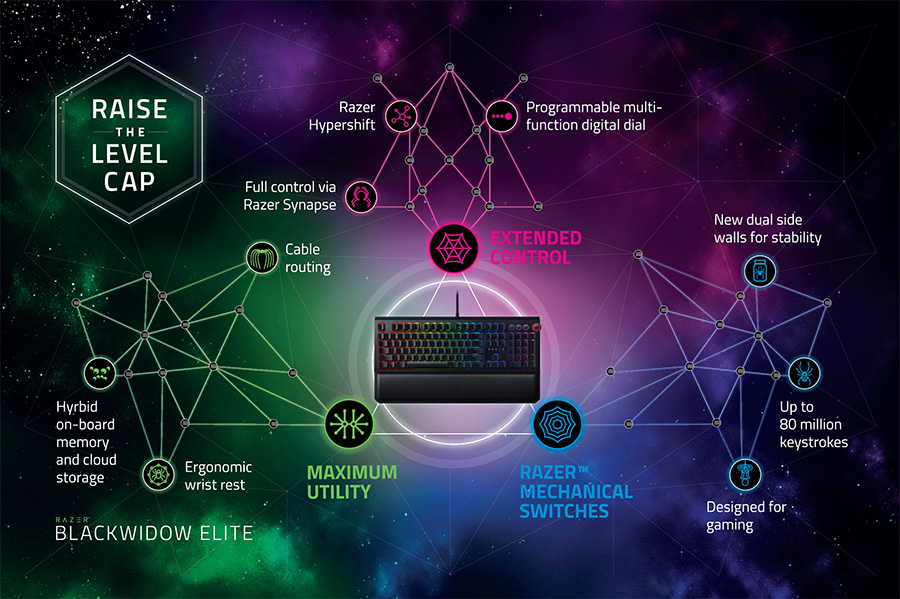 This customization software offers users the ability to program lighting effects for increased immersion. Razer Synapse 3 also allows for the complete customization of key bindings and assigning macros to any key to give gamers the competitive advantage.
The Razer BlackWidow Elite is a gaming keyboard designed for peak performance, featuring improved Razer Mechanical Switches available in green, orange and yellow, with new dual sidewalls for increased stability, and an 80 million keystroke lifespan.
The Razer Blackwidow Elite is the first in the BlackWidow line to have Hybrid On-board Memory and Cloud Storage and up to five profile configurations that can be saved for use anywhere.
Beyond gaming, the Razer BlackWidow Elite features a Multi-Function Digital Dial and three media keys. A USB 2.0 and audio pass-through and wire routing allow for easy cable management. Complete with a padded wrist rest, gamers can play comfortably for hours.
Razer Mamba Wireless
With the best-in-class Razer 5G optical sensor and industry-leading wireless technology, gamers with the Razer Mamba Wireless can play unhindered at their full potential with minimal downtime.
Featuring an acclaimed Razer 5G Advanced Optical Sensor with true 16,000 DPI and a resolution accuracy of 99.4 percent – the highest available on the market – gamers can expect to experience a new standard of precision and speed.
Combined with Razer's proprietary adaptive frequency technology, which ensures the most stable wireless connection possible, and a battery life of up to 50 hours on a single charge, the Razer Mamba Wireless allows gamers to play for extended hours.
The mouse also comes with Razer Mechanical Mouse Switches, durable up to 50 million clicks, and seven buttons that are programmable via Razer Synapse 3. With Hybrid On-board Memory and Cloud Storage, gamers can save up to five profiles to their mouse for easy access anywhere.
The Razer Mamba Wireless also retains the classic ergonomic design with updates to the side grips for even greater comfort.