AMD's Radeon Pro Software Enterprise Edition is designed to meet the exacting demands of enterprises, with quarterly driver updates that deliver enterprise-grade quality on a consistent basis. Today's 18.Q2 release continues to provide the reliability, security features, simplicity, and innovations professionals have come to expect of Radeon™ Pro Software. Along with that, it brings performance increases in leading professional applications. In addition, the Radeon Pro Software Enterprise Edition 18.Q2 driver adds support for the Windows® 10 April 2018 Update.
Improved Application Performance, Stability, And Security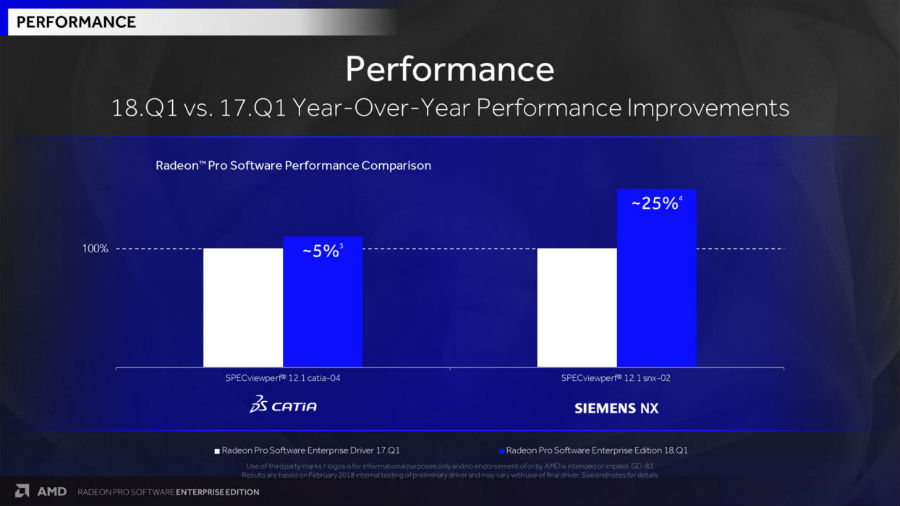 The new update brings significant year-over-year performance improvements in leading professional applications. These include:
Siemens NX: 47%

Autodesk 3ds Max: 44%

CATIA: 37%

Creo: 14%

SOLIDWORKS: 12%
It also delivers the reliability and quality that IT professionals demand.. AMD's extensive ISV certification and real-world testing result in enterprise software. These software are certified on over 80 of the leading professional applications. The most important part? There are zero issues reported from 99.99% of customers.
Radeon Pro Software Enterprise Edition delivers advanced security features. It works in tandem with Windows Defender Device Guard when using Windows 10 Enterprise edition. Together, they help thwart malicious attacks, giving you added protection for your valuable intellectual property.
Updated Windows Versions
Following the release of new macOS versions in April, AMD is introducing updated Windows and Linux versions of the Radeon ProRender plug-in for Blender, an updated version of the Windows plug-in for Maya, as well as updating the Radeon ProRender plug-in for 3ds Max.
These plug-ins introduce several new features and enhancements including updates to the Uber and Light Shaders, support for volumetrics and interactive denoising – accelerating artists' workflows and ultimately making their lives easier.
You can find out more about the 18.Q2 update for the AMD Radeon Pro Software Enterprise Driver on its information page.
The driver can be downloaded here.
For detailed instructions on how to correctly uninstall or install Radeon Pro Software, please refer to the following articles: