LG's 2018 monitor range comes with all the works – high refresh rates, sphere lighting, and screen real estate for added gaming advantages. Not only that, they come in an array of options and sizes as well, like UltraWide, UHD 4K, Mac-compatible and IPS models, all of which suit different demands. You'll definitely find something that is tailored to your eyes.
Smooth, Precise Gameplay
The LG 32GK850G is the ideal display for gaming enthusiasts who want seamless, quick motion gameplay on large screens with high picture quality. It offers high refresh rates of 144Hz, with an overclock option to increase it to 165Hz. It also delivers incredibly fluid graphic motion by using its NVIDIA G-Sync to eliminate stuttering and screen tearing. Not only that, LG has included a built-in sphere lighting that uses LEDs behind the monitor to create a soft ambient light for a more immersive gaming experience. You can choose from six different color settings and adjust it with a wheel key to create their ideal gaming atmospheres.
For even smoother gameplay, the LG 27GK750F offers the highest 240Hz refresh rate, one millisecond Motion Blur Reduction for fluid gaming motion without creating doubled frames, and AMD FreeSync technology to reduce frame loss even at the highest visual settings.
Gamers who want to see more content on their screens can look forward to LG's range of UltraWide gaming monitors for the perfect choice. Coming with a 21:9 curved IPS panel, the 34UC89G provides an immersive viewing experience. It maximizes the quality of moving images with the PC's graphic card and software thanks to its refresh rate of 144Hz (overclock 166Hz). Coupled with advanced one millisecond Motion Blur Reduction, the monitor boasts seamless image transitions without after-images and the IPS display delivers accurate color expression from any angle without distortion.
These are perfect for serious competitive gamers who enjoy FPS, MMO, RTS and racing games. They offer unique features such as Black Stabilizer, which delivers clearer contrast to give gamers maximum visibility at all times, and Dynamic Action Sync which minimizes input lag for players to react faster to the action.
Big Screens! Vivid Colors! UltraWide Monitors!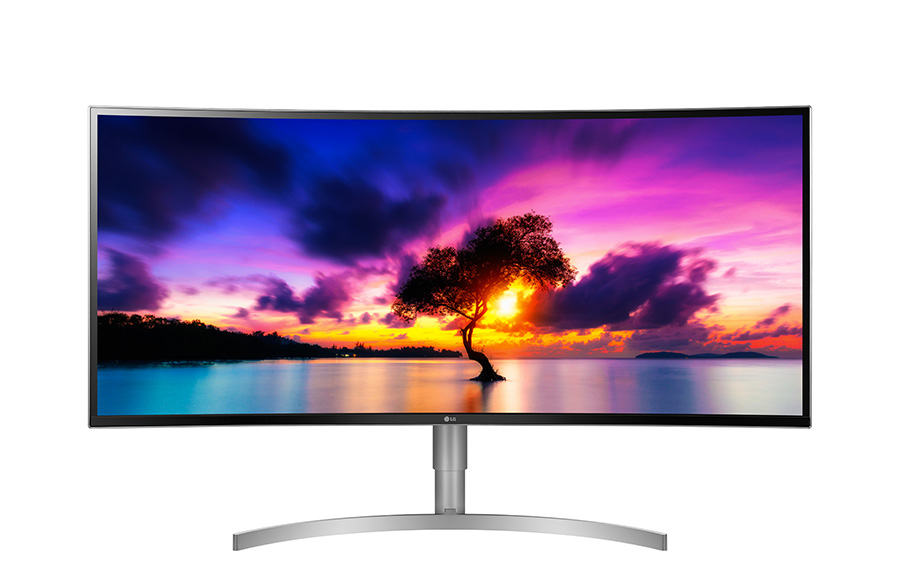 Joining the lineup at this year's launch is the 38WK95C, LG's 21:9 UltraWide WQHD+ IPS curved LED monitor. With its Wide Quad High Definition resolution, it offers stunning picture quality on a 2560 by 1440 pixel wide screen. With so much screen space, it is an ideal workstation for app developers who can edit, code and review their work all at once. The monitor also boasts 99 per cent coverage of the sRGB spectrum, and is therefore a perfect solution for photographers, video editors and graphic designers who require highly accurate colors.
Other UltraWide monitors set to make an appearance include the 34WK650 and 29WK60.
UHD 4K Monitors for the Discerning Content Creator
Another solution with first-of-its-kind technologies is the LG's 32UK950, a UHD 4K monitor equipped with LG's advanced Nano IPS. The technology enhances the intensity and purity of on-screen colors for a more accurate and life-like viewing experience. This LG monitor can display 98 percent of the DCI-P3 (sRGB 135%) color spectrum, comparable with monitors used to master Hollywood blockbusters. With its support for HDR 600, it is perfect for media prosumers seeking superb color reproduction.
It also features the first Thunderbolt 3 display dock to support 4K daisy chaining, allowing up to four devices to be connected to one port as well as a setup of dual 4K monitors without the need for a separate USB hub. Its connectivity performance is eight times faster than the USB 3.0, which means up to 25,000 photos can be transferred in just one minute via a single cable. These are included in the 27UK850, 27UK600, 43UD79 and 27UD58 monitors.
Outstanding Resolution and Speedy File Transfer with Mac-compatible Monitors
For the creative who enjoys working on his Mac, the UltraFine monitors are a great alternative for displays. At 218 pixels per inch to deliver 5K resolution, the LG UltraFine 5K display 27MD5KA lets you experience the definition and detail of a Mac on a large screen. Its color spectrum of P3 99 percent allows content creators to see every detail of their high-resolution photos and videos so they can edit them with high precision. Its Thunderbolt 3 port can transmit 5K video and data while simultaneously charging a new MacBook Pro (up to 85W) over a single cable. There is also the 22MK4KA counterpart, which offers a 4K resolution in a 21.5-inch monitor.
IPS Monitors Offer Great Viewing at Every Angle
LG's IPS monitors such as the 22MK430 and 24MK430 offer true-to-life colors, deep black levels and rich colors for amazing contrast and color detail at virtually any angle. The IPS technology highlights the performance of liquid crystal displays, resulting in shortened response times and improved color reproduction. The Screen Split feature allows you to customize their layouts for multitasking. Resize and display multiple windows at once, with 14 options including four different picture-in-picture choices.