Last Friday, BODUM had its first-ever launch of its electrical appliances in Singapore. These BODUM electronic appliances range from coffee makers to coffee grinders to boilers and more. You can never go wrong with caffeine in your life, and now you can do it in style.
ePEBO Vacuum Coffee Maker
Definitely the star of the latest range, the ePEBO vacuum maker is eye-catching, functional, and bound to sate your caffeine thirsts.
It has a funnel made of borosilicate glass, so you can view the entire brewing process from start to finish. Which is a good thing, because the ePEBO Vacuum Coffee Maker's brewing process is fascinating. Water heats in the lower chamber, and the resultant vapor pressure forces the boiling water up into upper chamber to mix with the grounds. Reverse gravity, much?
Once your coffee is done brewing, it'll also stay toasty warm with the heating plate at the bottom of the ePEBO Vacuum Coffee Maker. If you don't finish the entire pot at one go, that is!
Electric BISTRO Water Kettle
The Electric BISTRO Water Kettle was developed to boil water quickly while using energy as efficiently as possible. This makes it perfect for when you need a quick caffeine fix ASAP, or even just some comforting instant soup.
You don't have to worry about getting water into the heating element and causing it to fritz either. The heating element is safely tucked away at the bottom. All you have to do is worry about how fast you're finishing your hot water, because the easily readable water level scale won't lie to you.
Blade Coffee Grinder
Now you can grind your beans and have them too. Compact and small, this space efficient coffee grinder is unobtrusive, so you can keep it within easy reach. The power cord can also be tucked away within the base, making it easy to blend into even the most minimalist kitchen.
With a transparent lid, you can easily control the grinding process. Grind it for longer for finer grounds, or just do a couple quick pulses to get some coarse coffee grounds. Either way, the easy, push-button control lets you control things easily.
Burr Coffee Grinder
If the blades of the Blade Coffee Grinder aren't your thing, here's another option. The Burr Coffee Grinder crushes beans between stainless steel conical burrs to preserve the beans' intrinsic flavour and aroma. It's a little bulkier, but the space is well worth the improved flavour.
It comes with 12 settings, which allows you to grind from a coarse French press to a fine espresso. If that isn't enough, it also comes with a programmable time function for even easier handling! No bean will remain uncrushed with this coffee grinder.
Toaster
So now that you've got your coffee, it's probably time to get some toast to go with it. Nothing says a balanced breakfast like coffee and toast, right? And what better way to toast your bread than in the BODUM toaster?
Its adjustable-width toasting slots create a secure grip around your food while it's toasting. You don't have to worry about it slipping around, because it'll be all nice and snug. The toaster also comes with variable browning temperature controls, a defrost function, and a stop button. No more burned toast, ever.
If you like bread, but in shapes other than sliced and toasted, you don't have to worry about feeling left out. The toaster comes with a pop-up warming rack for rolls, croissants, buns and more!
It also features a slide out crumb tray for easy cleanup, and a cord retainer to adjust or store the cable away.
Double Wall Water Kettle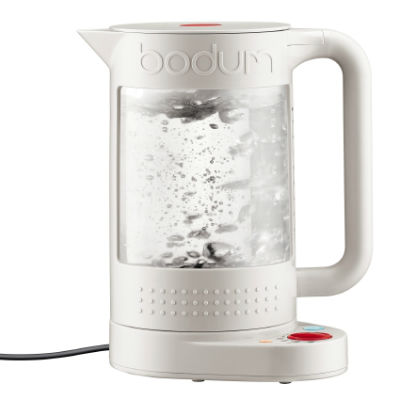 This water kettle can be set and held at desired temperatures for up to half an hour. Perfect for more delicate teas that can't use boiling hot water. The double layer of walls ensures that your water remains at the perfect temperature for longer.
The inner glass wall is made of borosilicate glass, so your water only ever comes in contact with glass, making it BPA-free. Since the outer wall is made of clear plastic, you also get to watch your water boil! Also great for keeping an eye on how much water you've got left.
All eBODUM appliances are available at the following places:
Robinsons

Metro

Tangs

COURTS megastore

Popular
Product

Available Colours

Retail Price

ePEBO Vacuum Coffee Maker

NA

S$369

Electric BISTRO Water Kettle

Black

Off White

S$89

Blade Coffee Grinder

Black

Off White

S$79

Burr Coffee Grinder

Gold

S$349

Toaster

Black

Off White

S$99

Double Wall Water Kettle

Black

Off White

S$179