Before the quartz watch was invented, time was told via a wristwatch that held an elaborate arrangement of gears, springs, and whatnots. Digital watches may be more efficient, but it will never command the reverence and awe that a fine mechanical watch can. To this day, the demand for, and appreciation of, mechanical watches remains strong. You don't have to buy a luxury watch to truly appreciate a well-made, mechanical timepiece – but what should you look out for? Let's find out.
1. Types of Watches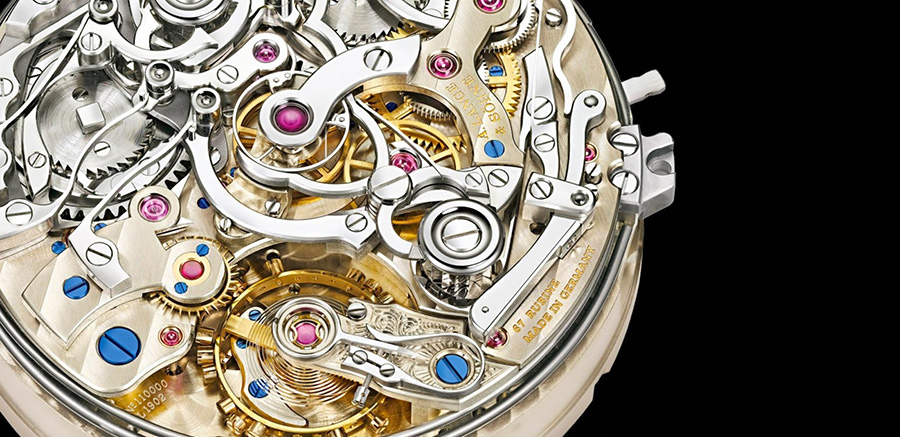 To keep things simple, all you need to know is that there are basically four categories of watches out there:
Quartz
Mechanical – handwound
Mechanical – automatic
Solar powered
A quartz watch utilises an electronic oscillator regulated by a piece of quartz, which produces a signal with a very precise frequency. They can be made cheaply, and typically, a quartz watch is synonymous with more functional applications.
A mechanical watch, which utilises more handcraft work and a more sophisticated mechanism, will normally cost more due to the complexity of the parts and work.
There is also another form of watch pioneered by SEIKO and Citizen, which captures the power of light, though not necessarily sunlight, to power the quartz movement in the watch.
2. Country Of Origin
The country of origin plays an important part of the watch's identity – watchmaking is synonymous to Switzerland as much as hamburgers are associated with American culture.
Swiss Made
A Swiss watch typically carries greater 'weight' compared to an Italian watch or a German watch brand. Weight, would in this case, refer to both the absolute price or value of the watch and also the reputation of the watch. If you have a Swiss watch on your wrist, it tends to be perceived as expensive and well-made – Swiss watches are synonymous with craftsmanship as well.
Japanese Made
This normally means it is economically priced and very efficient (in terms of energy saving). More importantly, it is good for your pocket, and you will have a decent timepiece on your wrist.
Others (German, Italian Made, Chinese, etc)
Over the last 30 years, only two old German brands were revived and are flourishing: Glashutte and A. Lange & Söhne. These are the upper bracket brands and they have a good following too. The only other prominent Italian brand with similar stature has now taken on a Swiss Identity – Panerai. Lastly, China-made watches are normally the mainstay in its home country due to their price. They are growing, but have yet to gain international credibility.
3. Styles of Watches
We can broadly classify these into dress watches, sports watches or manufacture watches (Manufacture d'horlogerie, if you must).
Dress
As the name goes, this is a watch of a more elegant nature, and typically, the face of the watch (called the dial) has only an hour and minute hand, and may have a sweep second hand that goes a full round every 60 seconds. In the old days, you would normally wear a flat watch for night functions and it would be nicely tucked under the sleeve. Of course, watches have gotten bigger and bulkier over the last 20 years and the thin, flat look of the dress watch has somewhat lost its allure.
Sports
Sports and the sporting lifestyle has become pervasive, thanks in part to the mass commercialisation of many events, such as Formula 1, the World Cup, Rugby Sevens, NBA, Yatchting, and Golf, just to name a few. As such, watches have gotten bigger and thicker. This is partly due to the testosterone-driven nature of the lifestyle and its penchant for the wow factor. In part, it's also due to a 'need' to encase some complicated movement.
Manufacture
This seemingly niche category has gone mainstream over the last two decades, where consumers have become more particular about heritage and manufacture. This has prompted many of the big names to dig deeper into their archives, looking to reproduce classic designs from the past and at the same time draw inspiration for new ideas. This was a welcome trend for many brands, as many R&D projects became commercially viable and that meant they could sell watches at higher prices – a win-win for all.
4. Types of cases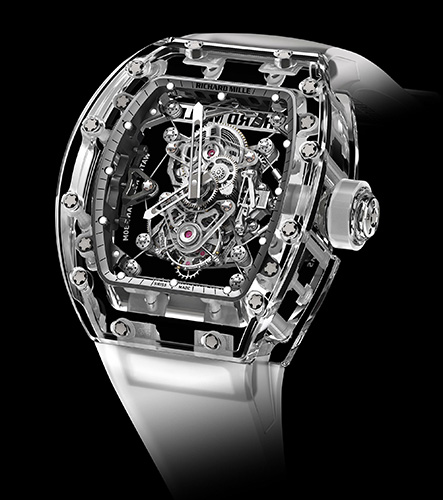 The case is basically the shell that holds the 'engine' – the movement – of the watch. With the advent of SWATCH and Casio G-Shock watches, the plastic case has become hip and marks the entry point as well; hence the spectrum starts from plastic and goes up to platinum:
Plastic
Steel
18K Gold ( Rose Gold , Yellow Gold or White Gold )
Titanium
Full Sapphire case
Platinum
Although there is no definite material to price ratio, we can generalise that a plastic watch is pretty much cheaper than a gold watch. But if a big name, say Richard Mille, makes a watch with a plastic case, it may well feel like as though the plastic costs as much as gold.
p124-127
5. Types of watches
As you can imagine, there are many types of watches, defined by their function, their make, and sometimes their style. Here are some of the most well-known types, and also what we think you are most likely to consider buying.
Hour Minute
This is the most basic of all watches, which may or may not have a second hand or even a date window – it simply just a hand each to tell the hours and the minutes.
Chronograph
For those of us who don't know any better, this is essentially a watch that has a stopwatch incorporated into it, resulting in its distinct dial face. It typically has a start-stop-reset function, and in the old days, was used to time activities. Much like how we used our Casios when we were younger.
Rattrapante
This is a more complex version of the chronograph where it has the 'split' feature, i.e., you can have more than one activity or one runner, for instance.
Diver Watch
As the name implies, a diver would wear one on their dives into the deep sea. The watches have a distinct turning bezel, whereby you could read off the oxygen left in your tank and ascertain when to surface for air.
Jump Hour Watch
This was a unique invention, whereby the hour time is sometimes observed via a small window showing a numeral, and after 12, it jumps back to 1. It can also use a traditional hour hand, though it does not sweep from one numeral to the next, and only moves when the current hour is over.
Tourbillon Watch
As a good watch company or a 'true' collector, one should always have this in their repertoire. The tourbillon is the Holy Grail of the watch world; great brands strive to produce one, while avid collectors seek to own one.
A tourbillon has one or two mechanisms that rotate either on one or two, or even three planes, and respectively, they are named Tourbillon, Double-axis Tourbillon, and Triple-axis Tourbillon. What makes a tourbillon special is that it was designed to counter the force of gravity by creating a counter circular movement of the balance wheel. In the past, one was enough but watchmaking has its own Space Race as well, and manufacturers began to make Double- and or Triple-axis Tourbillon to show off their mastery; the more the merrier, or so it seems. One thing for sure is that the improvement in accuracy is not as significant as the increase in price.
Perpetual Calendar Watch
Another 'must-have' in the past, although its popularity has waned somewhat, as trends and seasonality do. These are extremely complex watches, averaging more than 500 parts, complete with many mini dials and small windows that are supposed to show you the positions of the Sun and Moon, as well as dates including and awareness of the leap year. Most of the time, the words and markings are so small, it makes you wonder how it could be read by an older gent, as normally such watches are easily in the high five-figure range.
Repeaters
Ownership of such a piece would place you in the upper echelon of collectors. With this watch on your wrist, you no longer need to raise your hand to tell the time. It is pre-programmed, mechanically, to chime on the minute, or every quarter of an hour, or hourly, etc., and hence the name, minute repeater or decimal repeater. It has a series of small or large gongs inside the watch, struck on cue by metal hammers. A small instrument on your wrist like this will have over 500 parts, so it's not hard to imagine that this would also equate to the dollar value as well – six figure sums for such a piece is not unusual.
Closing Words
To round up our short guide, here are some points to note if you are thinking about making a jump into the world of watch collecting.
Watch as an Investment
No true formula, as the market is akin to buying art. You pay for what you like.
There will always be some degree of rarity involved but deep knowledge is required to know what is truly rare and highly sought after. This involves cross referencing books, trawling the web, and chatting with your favourite watch stores and grey market traders.
Buying is one thing, looking for a willing buyer for your rare or special piece is quite another.
How and where to start ?
The fundamental rule is to start with what you can afford.
Buy a Swiss-made watch.
Buy a mechanical watch – it can be winding or automatic.
Quartz is a big no-no, as the collectors' market is fixated on heritage and established names, craftsmanship and so on.
Naturally, if the original box or warranty is intact, so much the better.
Original look or re-furbished? Again, the market is fixated with watches that are unmodified. Meaning an old watch must look old – so no re-touching of the dial.
Groups vs. Independent Manufacturers
Once you've 'seen it all', then it comes down to searching out new talent or relative unknowns.
The last decade has seen many smaller family-owned brands being gobbled up by large watch conglomerates – namely SWATCH, Richemont, LVMH, and Kering. These groups are all financial and manufacturing powerhouses and each has ten brands or more in its portfolio.
The brands under these groups have more commercial appeal as they have the budget and the means for mass advertising and promotions. However, there are top collectors, globally, who are essentially purists who believe that real art of watchmaking lies in smaller numbers, and preferably not owned by large corporations. Some of these namesake brands include Patek Phillipe, Audemars Piguet, Richard Mille, MB&F, Kari Voutilainen, Jacob & Co, Moser, Cabestan, Urwerk, Arnold & Son, etc.
Most of the time, the more 'exotic' the name, the greater the appeal. Collectors go to great lengths to seek out such "raw talent" – it's a thrill for them – and would gladly be one of the ten or 18, to own a piece of this watchmaker's annual production. Again, such a piece would normally float in the region of five to six figures.
So there you have it, a non-exhaustive guide for those of you thinking about taking the plunge. If you are indeed intrigued by the historical element, there are many brand history books written by curators who have been commissioned by the brands themselves. For the budget conscious, the end game will be different, as each future purchase inadvertently gets pricier due to the complexity of the watch. But nonetheless, you will enjoy it all the same – it is an addictive hobby. Enjoy Haute-Horlogerie!