Minimalism is the underlying theme behind the design of the Fujifilm X-E3 – and it shows. The latest addition to the X Series of premium mirrorless digital cameras, the X-E3 is the most compact and portable of the X Series at ~337g.
The Perfect Travel Accessory
The camera body is designed to be well-balanced and easy to hold, making the X-E3 perfect for everyday use or for travel photography. After all, there are few things more annoying while travelling than having to lug around a heavy camera! The layout of the buttons on the back panel is intuitive, and within easy reach so you don't have to fumble while you check your perfect (and not so perfect) shots. Hey, that's what that easily accessed delete button is for, right?
For the control freaks out there, the X-E3 brings back a popular feature first introduced in the X-Pro2: the Focus Lever. The Focus Lever, placed so your thumb can easily reach it, lets you manually shift the focus area of your perfectly composed shot.
The X-E3 is also the first camera in the X Series to be equipped with Bluetooth functionality. You can easily pair your camera with your smartphone or tablet. Got an amazing vacation shot that you have to share online ASAP? Now you don't have to wait to transfer your pictures to your computer! Just upload it directly from your phone. Go on, make all your friends back home jealous.
No Lightweight, Specs-Wise
With how the camera is so light and portable, you might think that it won't hold up to its bulkier compatriots, specs-wise. However, the X-E3 features Fujifilm's X-Trans CMOS III, a 24.3-megapixel sensor renowned for outstanding image quality. Thanks to its random pixel array, the sensor cuts out moiré and false colours without needing an optical filter.
In addition to that, the X-E3 also has an image processing engine approximately 4x the processing speed of the previous model. With processing power like this, you never need to worry about lag when scrolling through your photos.
Filters, Functions, Films, and More!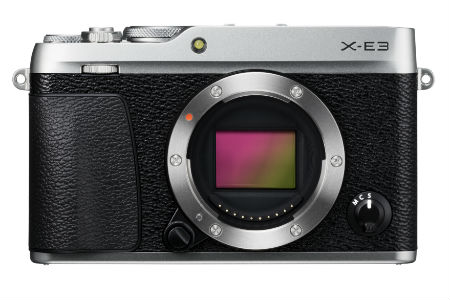 While minimalism may have been the driving theme behind its design, the X-E3 can be used for more than just minimalist photography. In-built filters let you play around with your shots, and your subject material. The X-E3 also allows you to combine two frames for a multiple exposure effect. Perfect for letting you express your artistic tendencies.
Want to move on from just photos? Now you can shoot high quality 4k movies at ~30fps with your X-E3! Just add a stereo microphone, and you're good to go.