After one month of polling on 19 categories on the NXT Facebook page, we had a total of 1,209 participants who voted for their favourite gadgets! Here are the results!
Poll Mechanics
All products for our NXT Awards online poll had to be launched after 1 September 2015 and sold in Singapore between then and 1 September 2016. A simple majority system was used to select the winning products.
A tech chat with Constance Lau
Former radio DJ Constance Lau is still a familiar face to Singaporeans, thanks to her frequent appearances on TV commercials and print ads, and you find out what she's been up to on her instagram account constancelaujm.
"I love Chinese food – I love soup, rice, noodles and I love meat. Whenever I go to a place or hawker and I find it's really good I'll Instagram it. Otherwise it's the usual behind-the-scenes at photoshoots and outfits of the day. I do travel so I like to post scenery photos as well. I have a camera but I'm pretty lazy and I find that my iPhone is good enough, more of less. Bought my camera, a Sony NEX-5R, some years ago and it still works for me.
What gadgets did I get this year? I did get the new MacBook, and yes in gold! The only thing I didn't like about it was that it has a single port (USB Type-C), so you had to get an external dock adaptor which makes things a bit annoying.
Back when I was doing radio I was using noise-cancelling headphones so it's interesting to see the technology pick up – it's such a difference compared to normal headphones. I'm really interested in getting a pair, as I do travel quite a bit and they're important if you sit on a plane a lot. I also looking for a new camera to take on my trips. I've read a few photograpy guides to level up my skills and I sometimes edit using apps to get the colours right.
And yes, I'm going to upgrade to the latest iPhone soon. I was actually a Blackberry user for the longest time and stuck with them because of the keyboard, but then I switched to the iPhone when I found out how user friendly they are and now update to a new iPhone every two years."
Smartphone of the Year
WINNER
Samsung Galaxy S7 edge
While the Singapore mobile market is dominated by smartphones, the fact that the Samsung Galaxy S7 edge emerged with the winning vote isn't surprising, with almost all other Android devices in our poll garnering single digit percentages. The Galaxy S7 edge itself is an excellent device that combines a cool 'edge' design with quality build material and excellent technical features such as it's camera system, bright screen and Samsung Pay.
From S$698
www.samsung.com/sg
RUNNER UP
Apple iPhone 6s
Despite being the first iPhone model to experience a drop in global sales, the Apple iPhone 6s remains a popular smartphone amongst Singaporeans primarily because users are very comfortable with the iOS interface. With the launch of the iPhone 7, Apple has dropped the price of the iPhone 6s which still has about a year to go before being discontinued.
From S$888
www.apple.com/sg
Phablet of the Year
WINNER
Apple iPhone 6s Plus
The verdict is in. For large screen smartphones we really prefer the Apple iPhone 6s Plus by quite a margin. The iPhone 6s Plus has a lovely 5.5-inch Retina display and a great interface with 3D Touch. Like its smaller sibling, Apple has dropped the price of the iPhone 6s Plus with the introduction of the iPhone 7 Plus.
From S$1,048
www.apple.com/sg
RUNNER UP
Samsung Galaxy Note 5
With the Galaxy Note 5, Samsung finally ditched plastic bodies and applied the same glass-metal-glass design from the Galaxy S6 to the brand's pen-phablet line. The result was finally a Samsung phablet that looked as good as it performed.
No longer available
www.samsung.com/sg
Tablet of the Year
WINNER
Apple 9.7-inch iPad Pro
The Apple iPad's popularity hasn't yet abated, and Apple's introduction of the powerful iPad Pro series just seems to increase the appeal. The 9.7- inch iPad Pro is half the screen size of the 12.9-inch iPad Pro, but packs the same powerful processor, a wonderful Retina multi-touch screen and brilliant Apple Pencil interface.
From S$888
www.apple.com/sg
RUNNER UP
Samsung Galaxy Tab S2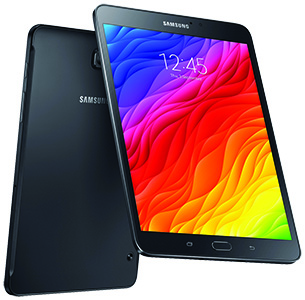 Samsung's mid-tier Galaxy Tab S2 just outpolled the more potent, and expensive, Samsung Galaxy TabPro S by a couple of percentage points! But taking into consideration that the Tab S2 is more affordable and portable for watching videos and playing games, and you can understand it has a better mass appeal.
From $598
www.samsung.com/sg
PC/AIO of the Year
WINNER
Apple 27-inch iMac
The PC/AIO selection for the NXT Awards was quite large, with a host of new AIOs and desktop PCs from all the major PC makers. So its quite a surprise that the Apple 27-inch iMac emerged as the winner! Of course, it has tons of appeal to consumers, with a great 5K Retina screen and iconic aluminium design.
From S$2,688
www.apple.com/sg
RUNNER UP
Asus ROG GT51
Coming in second in our poll is the monstrous Asus GT51 gaming desktop, which shows that power and performance does appeal to many Singaporeans! Rocking the most powerful Core i7 processors, the liquid-cooled GT51 can be specced up with massive amounts of RAM, drives and dual NVIDA graphic cards.
From S$3,498
www.asus.com/sg
Laptop of the Year
WINNER
Lenovo Thinkpad X1 Carbon
Another hotly contested section of our poll saw votes spread over a dozen notebooks, with the Lenovo Thinkpad X1 Carbon polling just that little bit extra to win! The Thinkpad X1 Carbon combines the classic matt black Thinkpad design aesthetics with a tough carbon fibre chassis to ensure that this notebook will survive the toughest boardroom arguments while being one of the lightest 14-inch notebooks available.
From S$2,752
www.lenovo.com/sg
RUNNER UP
Apple MacBook
MacBooks still remain pretty popular, especially as the latest version of the MacBook has a lovely gold colour variant. Apple has also followed the mainstream trend of using Type-C USB for a single input/charging port.
From S$1,788
www.apple.com/sg
TV of the Year
WINNER
Samsung KS9000 4K SUHD
Samsung's curvy KS9000 not only produces great imagery but looks great as well with its curvy form factor and almost bezel-less 'boundless design'. Equipped with Samsung's Quantum Dot display technology, HDR capabilities, Tizen OS interface and Samsung Smart Hub, the KS9000 is a brilliant contemporary TV.
From S$5,199
www.samsung.com/sg
RUNNER UP
LG OLED TV C6
LG's most affordable OLED TV, the C6, takes second place in the TV poll, and it's a stunner with excellent brightness, rich black levels and great 4K HDR performance, while the WebOS interface and Magic Wand remote control is just so easy to use.
From S$6,799
www.lg.com/sg
Home Speaker System of the Year
WINNER
Bose Lifestyle Soundtouch 535
Bose is practically a household name in Singapore that's synonymous with premium audio systems so it's no surprise that the Lifestyle Soundtouch 535 5.1 home theatre surround sound system takes the accolades in the home speaker poll.
S$5,499
atlas-sv.com
RUNNER UP
B&O Beoplay A9
The saucy B&O Beoplay A9 is a stunning work of technological art – which is why it's appeared on the NXT cover (alongside socialite Kim Lim). It can connect to AirPlay, DLNA and Google Cast as well as stream directly from Spotify and Deezer, and syncs with other B&O Beoplay speakers for multi-room audio.
From S$4,000
www.beoplay.com
Portable Bluetooth Speaker of the Year
WINNER
B&O Beoplay A1
Bang & Olufsen having been making excellent high-end audio products for decades, and NXT readers must have been as impressed as we were regarding the Beoplay A1 when we gave this portable speaker an Editor's Choice Award. In terms of build quality and audio performance the Beoplay A1 is as excellent as expected for a B&O product, but at a price that's actually pretty reasonable, for a B&O product.
S$349
www.beoplay.com
RUNNER UP
Beats Pill+
The revamped Beats Pill+ corrected the major faults of the original Beats Pill portable speaker with a more refined design, use of better materials, a vastly improved sound full Bluetooth integration, which explains why it was voted in second.
S$298
sg.beatsbydre.com
Wired Headphones of the Year
WINNER
Sennheiser Momentum 2.0
Sennheiser created a whole new market segment when they launched the Momentum series, which is a sort of affordable premium product using quality materials and producing superior sound, which appeals to the consumer who's willing to pay a little bit more for better quality and comfort. So it comes as no surprise that the popular Momentum 2.0 headphone wins the Wired Headphones of the year award.
S$359
en-sg.sennheiser.com
RUNNER UP
Beyerdynamic T 51 p
Beyerdynamic may have only recently established their presence in the Singapore market, but the response to the T 51 p has been excellent and it just pips a number of other headphones to the runner-up position.
S$529
www.beyerdynamic.com
Wired Earphones of the Year
WINNER
Sennheiser Momentum In Ear
Sennheiser dominates the personal audio market and it is clear to see from our NXT Awards Poll how popular their products are, with the Sennheiser Momentum In Ear comfortably scoring the win. Of course, it helps that these headphones sport a distinctive design and provide a high-quality audio experience.
S$149
en-sg.sennheiser.com
RUNNER UP
Sony MDR-EX750NA h.ear in NC
One of a number of High-Res personal audio products that Sony released in the past year, the MDR-EX750NA h.ear in NC is a good alternative to more expensive noise-cancelling earphones with an excellent 16 hours of playback.
S$199
www.sony.com.sg
Wireless Headphones of the Year
WINNER
Sennheiser Momentum 2.0 Wireless
There's lots to like about the Momentum 2 Wireless, which is why it's the winner of our Wireless Headphones catergory. It shares the same comfortable lightweight on-ear design as the Momentum 2.0 with leather headband and soft earpieces, but adds Bluetooth 4.0 and NFC for wireless connectivity and four built-in microphones for hybrid active noise cancellation and a whopping 22 hours of battery life.
S$699
en-sg.sennheiser.com
RUNNER UP
B&O Beoplay H8
Singaporeans seem to like lightweight noise-cancelling wireless headphones, with the B&O Beoplay H8 coming in second. The H8 is a light on-ear headphone that provides up to 14 hours of signature B&O sound from its classy design.
S$699
www.beoplay.com
Wireless Earphones of the Year
WINNER
Bose SoundSport Wireless
One of the reasons why we aren't overly concerned about Apple removing the headphone jack from the iPhone 7 is that we've seen a lot of wireless earphones over the last year, with the Bose SoundSport garnering the most votes in our NXT Awards Poll. It may look a little chunky, but it's actually light and very comfortable to wear, is rain and sweat resistance and produces excellent sound.
S$239
atlas-sv.com
RUNNER UP
Beats Powerbeats2
The Powerbeats2 features an design that securely hooks the earphones around your ear so you can enjoy your music during even the toughest of workouts. It's now been discontinued and replaced by the Powerbeats3, which incorporates Apple's new W1 wireless chip.
Discontinued
sg.beatsbydre.com
Smartwatch of the Year
WINNER
Samsung Gear S2 Classic
The most watchlike of smartwatches wins the Smartwatch category. The Gear S2 Classic includes a rotating bezel that makes it easy to zip through the smartwatches menu interface. The Smartwatch uses Samsung's Tizen OS so there's not as many apps available as compared to watchOS or Android Wear but it does have Samsung's integrated S Health platform.
S$498
www.samsung.com/sg
RUNNER UP
Pebble Time Steel
Pebble watches may lack the powerful processors of other smartwatch, but they more than make up for it in battery endurance thanks to their e-ink screens. The Pebble Time Steel can go for up to seven days between charging and looks much more appealing with a stainless steel bezel than the plastic wrapped original.
From S$259
weareready.sg
Fitness Watches of the Year
WINNER
Fitbit Blaze
Fitbit's first real fitness watch scores thanks to its sleek design, simple interface and comprehensive accessories like fashionable straps, and while the Blaze is not a watch you'd use to track a competitive triathlon it is a watch that won't look out of place in the gym or boardroom.
S$318
www.fitbit.com/sg
RUNNER UP
Samsung Gear Fit2
We're a little surprised that the Samung Gear Fit2 polled second in the fitness watch catergory, but then again it fully integrates with Samsung S Health on Samsung mobile devices, thus appeals to the huge number of Galaxy S7 users in Singapore.
S$298
www.samsung.com/sg
Wearable of the Year
WINNER
Fitbit Alta
The wearables market in Singapore is pretty competitive, but two Fitbit devices came out top of the poll. The Alta band is part of Fibit's new push towards consumer friendly wearables that you can wear 24/7 and boast a bright screen, good battery endurance and of course a range of straps and third party accessories to customise.
S$198
www.fitbit.com/sg
RUNNER UP
Fitbit Charge HR
The Fitbit Charge HR is just pipped to the win by its newer and slimmer cousin, but it does come with heart rate monitoring, although it's now being replaced in Fitbit's lineup with the new, more watch-like Charge 2.
S$199
www.fitbit.com/sg
Mirrorless Cameras of the Year
WINNER
Sony a7R II
Sony's a7R II is a worthy winner of the mirrorless camera category. Rocking a Full-Frame 42.4-megapixel CMOS sensor, Fast Hybrid Autofocus, Five-axis image stabilization and 4K video capture, the a7R II showed the camera world that Sony could pack the capabilities of a large Full-Frame DSLR into a small, highly portable mirrorless body.
S$4,099 (body only)
www.sony.com.sg
RUNNER UP
Olympus Pen-F
While Sony's all black a7R II is very business-like, the Olympus Pen-F has a retrolicious design in magnesium alloy that's highly appealing to enthusiast photographers. But it's a highly competent shooter as well, with a 20-megapixel Live MOS sensor, 3-inch tilting touchscreen display and a new Creative Dial to make it easy to access to art filters and film emulation modes.
S$1,798 (body only)
www.olympusimage.com.sg
DSLR of the Year
WINNER
Canon EOS 1DX Mark2
Canon's new Full-Frame flagship DSLR takes most of the accolades, and why not. It's a photographer's dream camera for action, sports and outdoor photography, able to capture 20.2 megapixel RAW images at 16fps! And thanks to 61-point AF and Dual Pixel CMOS AF your speedy subjects will be sharp and in-focus.
S$8,199 (body only)
www.canon.com.sg
RUNNER UP
Canon EOS 80D
The EOS 80D is the new range-topper for Canon's APS-C equipped DSLRs, and it's a snappy weatherproofed shooter suitable for all but the most demanding forms of photography.
S$1,849 (lens kit)
www.canon.com.sg
Compact Digital Camera of the Year
WINNER
Canon PowerShot G7X Mark II
The fact that Canon's premium compact G-series cameras remain popular is a reassuring sign that there's still a market for compact cameras, especially prosumer models like the PowerShot G7X Mark II, which packs an excellent 20.2-megapixel 1.0 type CMOS sensor and a versatile 4.2x optical zoom. Excellent for photographers who want something small and portable but with a full range of photographic features and controls.
S$799
www.canon.com.sg
RUNNER UP
Nikon Coolpix P900
This excellent high-power zoom camera is great as an all-in-one travel camera, and with an impressive 83x optical zoom (24mm -2000mm equivalent in 35mm format) lets you get close to the action from a distance. And to make sure your long range photos come out clear, the 16.1-megapixel Coolpix P900 has Dual Detect Optical Vibration Reduction.
S$889
www.nikon.com.sg
Broadband Service Provider of the Year
WINNER
Singtel
RUNNER UP
Starhub
Gadget of the Year
WINNER
Sennheiser Momentum 2
The NXT Awards 2016 Gadget of the Year was chosen from the one product that had the most number of individual votes during our online poll, and while the Apple 9.7-inch iPad Pro came close, the gadget that received the largest number of votes was the Sennheiser Momentum 2.0 headphones.
Sennheiser created the entire Momentum series in order to make premium audio devices more affordable to consumers, while maintaining the the brand's high standard of materials and audio performance that are found on their audiophile products.
Editor's Choice of the Year
WINNER
PlayStation VR
The NXT Editor's Choice is chosen by the NXT editorial team from the products that we Tested and awarded an Editor's Choice, and over the past year this included gear as dissimilar as the Prolink PROBRICK+ charging hub to the incredible Sennheiser HE1 audio system. Yet one gadget stood out as something different, and that's the Sony PlayStation VR.
The PlayStation VR wins the NXT Editor's Choice of 2016 because it's an excellent and practical VR solution, and simply the best VR system we saw in 2016. It provides an excellent VR experience in terms of visual and audio performance yet can be worn for long periods of time with little discomfort. It's affordable and plugs straight into a current PlayStation 4 or the upcoming PlayStation 4 Pro with little fuss. Finally, more than any other VR solution currently available, the PlayStation VR has the greatest potential to revolutionise Virtual Reality content for everyone.
S$599
asia.playstation.com