VOTING HAS ENDED
You have voted for your next female lifestyle tech writer and you all stand a chance to win a one-year free subscription to NXT magazine or NXT Digital magazine.
We are giving away one-year free subscriptions to the NXT magazine to 20 lucky winners (Singaporeans only) AND one-year free subscriptions to the NXT Digital magazine to 60 lucky winners (Singaporeans & Malaysians).
Voting has closed – and results will be announced in September.
This campaign voting was open to all Singaporeans and Malaysians only.
Voting period: 15 July 2023 to 15 August 2023
Terms and Conditions
NXT Angels 2023 voting will run from 15 July 2023 to 15 August 2023.
80 voters will be selected at random to win the sponsored prizes.

The winner is decided by the highest number of individual votes.

Voting is limited to residents of Singapore and Malaysia.
All prize winners must be Singaporean or Malaysian Citizens or Permanent Residents. Entrants from elsewhere will be disqualified.
All prize winners will be contacted via email regarding prize collection.
Kingsman Media Pte Ltd reserves the right to modify the terms and conditions of this contest.
---
Contestant number 1: Chong Yu Qing 
The Canon EOS R50, being the most compact mirrorless and lightweight RF-mount camera that Canon has to date, is perfect for beginners and less experienced users like me. Despite it being so compact, it still maintains high image quality and performance which is comparable to other higher-end cameras.
It has the capability of burst shooting of up to 15 frames per second at a resolution of 24.2 megapixels, partnered with the APS-C CMOS sensor and DIGIC X processor.
I brought the EOS R50 with me on my recent cruise trip to test out some of the features. Thanks to the amazing auto-focus mode, it was rather easy for me to shoot with it. With its HDR PQ mode, it enables the image to have a wide dynamic range with a more realistic colour tone without editing.
I was shocked by the quality of the image produced in its HDR PQ mode as it was an exact reflection of what I saw.
The EOS R50 also included a new feature in its Special Scene (SCN), the Panoramic Shot. The function allowed me to take in the breathtaking structure and landscape in one unbroken shot while I was onboard. I was very satisfied with the high-resolution and breathtaking panorama photos I was able to capture with the EOS R50.
Overall, after my short experience with the camera, I would highly recommend this Canon EOS R50 to beginners looking to get started with photography or videography. The Canon EOS R50 is equipped with many features to enhance the user experience, yet it is user-friendly with its ability to simplify the functions, for us to get the best possible results with it. I truly enjoyed my whole experience with the camera and most definitely would bring it together with me on my future trips!
---
Contestant number 2: Khloe Lim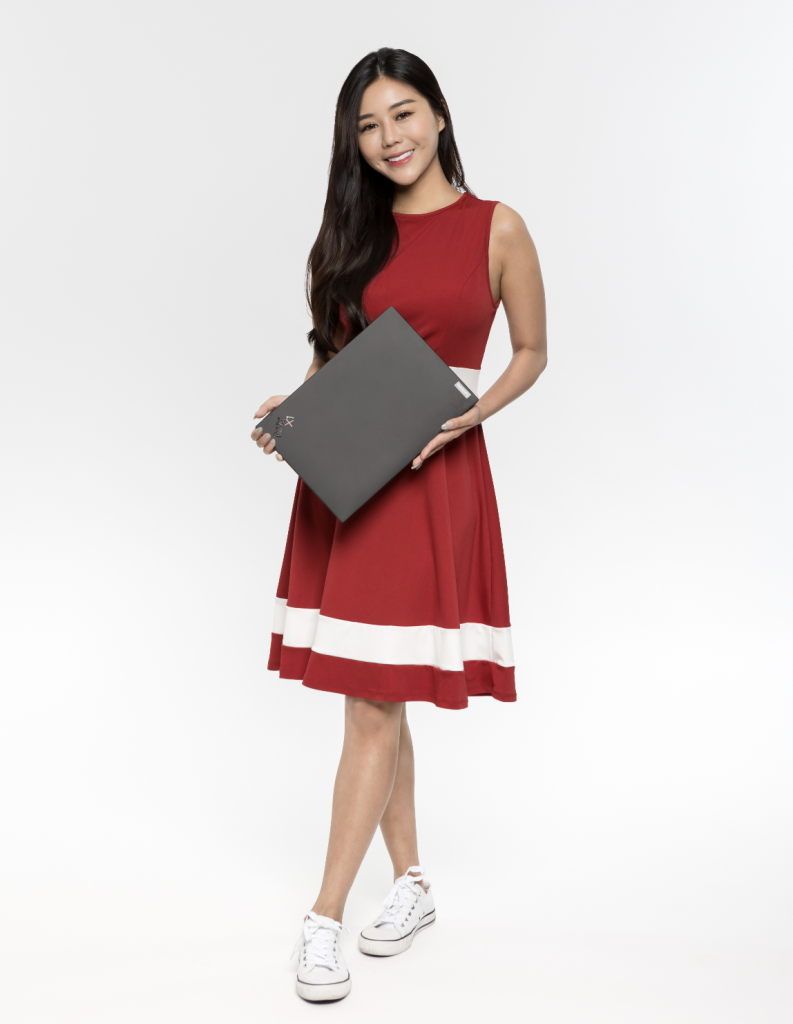 Let's dive into the technical details that make this laptop a powerhouse. Encased in a lightweight carbon fibre chassis, weighing under 1.12g, the X1 Carbon Gen 10 strikes the perfect balance between durability and portability. Its slim profile and a stunning 14-inch display with slim bezels provide an immersive visual experience that will leave you captivated.
Beneath the sleek exterior, the ThinkPad X1 Carbon Gen 10 packs a serious punch with its high-performance hardware. It runs on the latest Intel processors, delivering exceptional processing power to tackle demanding tasks with ease. The integrated Intel Iris Xe graphics ensure smooth visuals, whether you're editing multimedia content or diving into graphics-intensive applications.
Multitasking? Not a problem. With up to 32GB of RAM, this laptop can handle numerous applications simultaneously without breaking a sweat. And when it comes to storage, the X1 Carbon Gen 10 offers lightning-fast PCIe NVMe solid-state drives, ensuring quick access to your files and snappy system responsiveness.
Another interesting feature of the ThinkPad is that it features eSIM functionality, enabling seamless connectivity without physical SIM cards. Users can easily switch carriers or add data plans, providing convenience for professionals on the move ensuring reliable and flexible connectivity, making it a top choice for uninterrupted internet access.
Security is a top priority and Lenovo has you covered. The laptop is equipped with a built-in fingerprint reader for secure and convenient biometric authentication. To add on, with the advancement of Artificial Intelligence, the ThinkPad X1 Carbon Gen 10 is equipped with computer vision technology that allows for movement detection in both awake and sleep states, enabling the device to lock on leave and wake on approach.
Additionally, the Lenovo ThinkPad X1 Carbon Gen 10 showcases intelligent features such as intent detection. It is capable of alerting users if someone is viewing their screen, dimming the display when the user is not engaged, and blurring the screen when the user looks away. Notably, it can even recognize the user wearing a face mask, enhancing convenience and security.
---
Contestant number 3: Megan Lee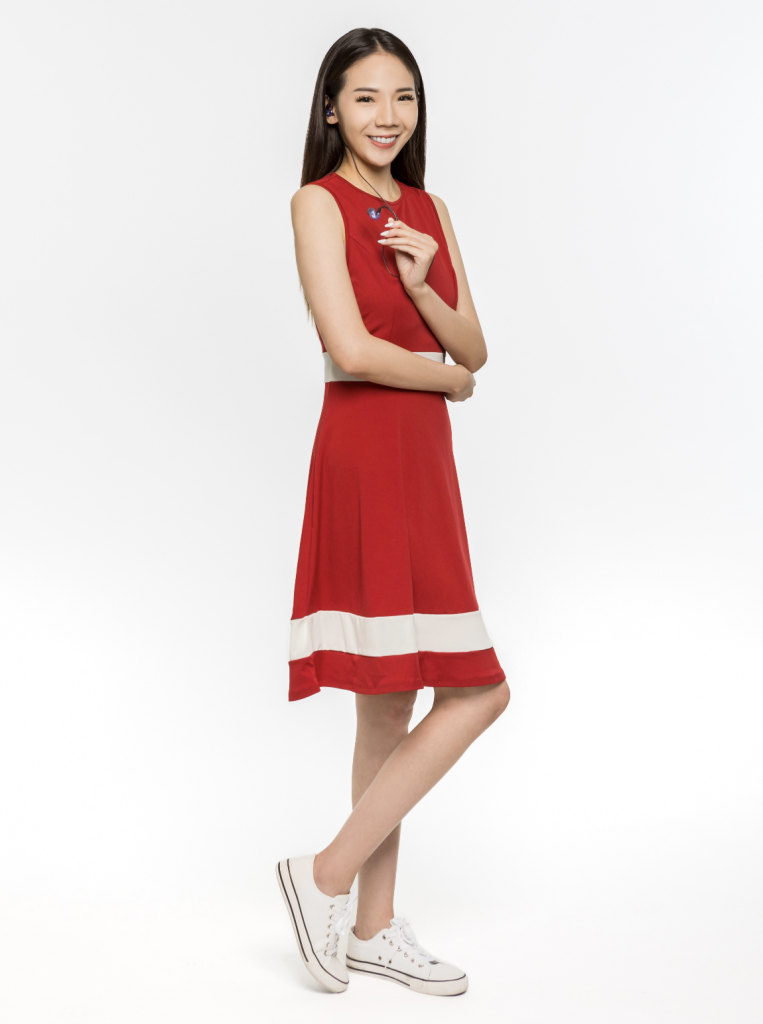 The Shure SE215 is the epitome of a reliable yet affordable Sound Isolating Earphone (SIE). Albeit the ongoing trend of wireless earphones, the SE215 still puts up a good fight against its competitors with its strong sound isolation and sound quality. Priced reasonably at only S$169, the SE215 sure packs a punch at this price point which makes it a bang for your buck. I've been using the SE215 for the past week and I must say It's amazing for me! The SE215 has been my daily driver for listening to music, playing video games and watching movies and it truly never fails to disappoint!
Just from its appearance, the transparent purple SIE feels solid and well-built. It comes with three silicone and three memory foam pairs of ear tips to suit individuals of different needs. The ear tips are meant to be squished before inserting into your ear, which gives it a snug feel. I've been wearing them for 5 hours daily and at no instance did I feel any discomfort despite the long wearing hours. It has been extremely comfortable for me and the SE215 excels in comfort!
The SE215 connects to my PC via a 3.5mm audio jack (analogue connection) which ensures I get the best audio quality. It boasts an amazing bass and an extremely balanced mid-range when I listened to pop songs like Cruel Summer by Taylor Swift. I noticed how the instrumentals and sounds kick in together at well-balanced tones which brings out the song vividly. I've also been binge-watching the new season of Black Mirror and Netflix and there are only good things to mention about the SE215. Black Mirror It provides an immersive and realistic experience for viewers and it does not disappoint!
The crisp sound quality the earphone provides allows me to hear everything clearly, giving me a whole new experience in watching movies. As an avid gamer, the SE215 is a must-try for my favourite game – Valorant. With noise cancellation kicking in, it dramatises the in-game sound effects to a whole new level which makes me feel tremendously immersed in the game.
However, the SE215 is not customizable and lacks in-line controls as compared to other gaming headphones. The short cable length is also a point to consider when choosing it as your gaming peripheral. Despite the shortfalls, I feel that at the affordable price range and quality the SE215 provides, it is a worthy purchase to improve your audial experience!
---
Contestant number 4: Sarah Wu
Ever since the border restrictions were lifted, Singaporeans have been rushing to go abroad. However, with all long-haul flights, neck cramps and sleepless nights abound. And here's where this pillow comes in to save the day.
This award-winning 3D inflatable massage neck pillow is one of Travelmall's newest inventions and the first of its kind. At first glance, I fell in love with its sleek design. On top of that, it is designed to be easily foldable and packs snugly into a travel pouch, making this the perfect travelling companion.
This 2017 Red Dot winner offers 3 built-in massaging nodes to provide your neck with a relaxing experience. Using it is easy – all you have to do is connect the pillow to an external power supply via the USB cable. It also comes with a simple remote control that allows you to adjust the massage time and intensity. Moreover, its smart deflation function enables you to deflate the pillow within mere seconds.
With its camel-back design and adjustable airtight inflation, this pillow fits snugly along the contours of your neck, ensuring it hits all those sore spots. Apart from soothing your neck aches, it cushions your head and neck, providing you with a good night's rest as you fly to your destination.
This handy device is also a great way to relieve neck aches. As a student, I spend hours hunched over my laptop and often get neck cramps. However, all that disappeared since this pillow entered my life. Now I can study and enjoy a neck massage – talk about productivity! I felt so refreshed and rejuvenated that I could even give my weekly appointment at Natureland a miss.
While this makes for a great flight companion, I hope they create a wireless version for easy use on the go while commuting to and fro. Moreover, it takes about 3 hours to feel the effects and I generally do not have so much time to spare. To counter this, Travelmall could consider offering a tighter neck fit and a higher massage intensity to provide a more effective massage for the time constraint.
Overall, this is a great investment especially if you are a frequent flier. Trust me, it's nearly impossible to get a good night's rest on a plane but with this pillow, I slept like a baby and awoke bright-eyed and revitalised.
---
Contestant number 5: Wong Yuan Li
Over the week, I've had the opportunity to use the Lenovo Yoga Slim 7i Carbon laptop and I'm super excited to share my thoughts on this compact yet ultra-light 13-inch OLED laptop. As a busy professional juggling both work and studies, I'm always on the lookout for sleek, powerful yet light laptops that suit my on-the-go lifestyle.
At just 968g, bringing this laptop out was extremely convenient. The lightweight, combined with the wide 16:10 OLED display meant it was perfect for working from cafés without compromising viewing of documents. Under the sleek and alluring moon white design is an aero-grade strength carbon fibre chassis which not only adds to its elegance but also makes it incredibly durable (military grade!). This gave me the confidence to bring it out without worrying too much about accidental bumps and scratches.
Powered by the 13th Gen Intel Core processors, it was well able to keep up with my workload and multitasking habits. On my first use, what impressed me most was the Smart Rapid Start; the laptop starts up instantly by lifting the display lid and logging in with facial recognition.
I spent my afternoon working at the newly opened BYD Café and was surprised (in a fantastic way!) by its incredible battery life. A fully charged Yoga Slim 7i Carbon has a battery life of 14.5 hours so I could confidently work and study throughout without worrying about finding a power outlet. The adapter is compact, light and efficient. A quick 15-minute charge gives me 3 hours of battery life and that is possible with the Lenovo Rapid Charge Express, a convenient feature for on-the-go users.
Streaming my favourite shows after a long day on Netflix was satisfying as the Yoga Slim 7i Carbon is Dolby Vision® HDR and Dolby Atmos® certified, accompanied by Harman stereo speakers. The vibrant visual and immersive audio experience allows me to be fully engaged in the video content (including my online lectures that now feel physical). Also, thanks to the 40% higher thermal design power, it has intelligent cooling features to minimize overheating. Extremely useful for my hours of K-drama binge-watching!
In conclusion, the Lenovo Yoga Slim 7i Carbon is a high-performing, elegant and lightweight laptop. Whether you are a business professional, student or content creator or all 3 like myself, the long battery life, durable build and incredible specs are appreciated. Did your heart flutter? Head over to Lenovo's official site to purchase the Lenovo Yoga Slim 7i Carbon at SGD 1,539.07 (including GST).
---
Contestant number 6: Chelsea Ang
It's been a while since we all travelled. In case you've forgotten all the woes that come with it, here are some products to alleviate the discomfort and inconvenience!
At a whopping 18L volume, the BOLD Kinesis V2 can carry all your travel or work necessities. I was very impressed when I managed to stuff half my luggage carry-on items into this bag easily. I sorted all my items into the different compartments perfectly as if they were made specially for my belongings.
To keep your tech gadgets secure, there's also a special padded compartment. My favourite feature is the automatic zip lock. Although it's not the most convenient to open as it locks each time the zips come together, I find that safety doesn't come with much convenience in the first place. I think this bag is perfect for active individuals or business trips.
I brought the Travelmall Switzerland XS Nano Mist Spray onboard my flight to Hong Kong recently. When you're up in the sky, your skin gets very dry and this is when the spray comes in handy. Only weighing 35g at a compact size, it couldn't be any easier to bring it everywhere you go.
However, I would have preferred if the spray could be stronger but that would also mean depleting the small water tank much faster. Because it's small and compact, the water tank can only hold 8ml of water.
This amount is not enough for me and I found myself refilling the water tank throughout a 4-hour flight. Inbuilt is a safety feature that shuts down after the 20s. This may work for some individuals but I found it a hassle. Since the pressure wasn't strong, I had to keep turning it on. The device also uses a micro USB charging port. This charging port is becoming less common these days and having a USB C charging port would make it more convenient.
The BOLD kinesis V2 is great as it packs a huge volume while keeping your items safe. The Mist spray could use an upgrade but it does the work of keeping your face hydrated. If you're going on a trip soon, you can consider these two items for a trouble-free trip and more youthful skin!
---
Contestant number 7: Abby Chow
I recently received the bold backpack that comes with a sling bag that can also be used as an organiser, the bag is blue which would match easily with my outfits, it is lightweight though it is not very small, slightly bigger than my body, it can store many things as I carry lots of stuff out, especially for travels.
What would I put in this bag? My laptop, able to fit up to 17 inches, extra clothes if I'm on a long flight, a water bottle in case I am thirsty, and my charger for both my phone and laptop. On the other hand, the sling bag is convenient as it can store my important documents like my passport, spare money, receipts and credit card which would be easy for me to dig it out when needed.
There is a collapsible compartment in which I can store my shoes without dirtying other compartments, it can fit up to US12, I wouldn't have to worry about getting my stuff wet in the rain as the bag is waterproof, to be exact, weather resistant! My laptop is safe from the rain.
Another product I have with me is the TravelMall GaN 65W PD High-Performance Worldwide Travel Adaptor with five USB Ports, this is super convenient for me as I travel a lot but do not have every adaptor for every country, but with this adaptor, I can use it in almost 200 countries, able to plug it with a laptop charger, smartphone charger, tablets, cameras, and most electronic travel appliances.
It is not very bulky, it weighs 181 grams and the measurements are 77x50x53mm, small enough to fit the corner of your luggage. I still remember when I went to Korea, I forgot to bring an adaptor and had to borrow from a friend, this adaptor would help with my future trips. Can't wait to carry the bag along and bring the adaptor for my next travels!
---
Presented by:
Sponsors: